AAW Games is looking for GMs to run Dungeons & Dragons 5e compatible games at Gen Con Indy 2022, which takes place from August 4th-7th, 2022.

As a GM, you will receive everything you need to smoothly run your adventure, a bonus gift from AAW Games, plus a free badge for all 4 days if you run at least 1 game per day for 6 players per game (x4 hours minimum per session).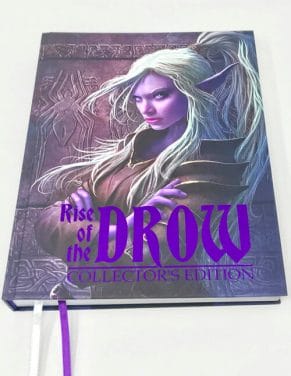 What dnd adventure am I running? How do I prepare?
You will be running the first part of Rise of the Drow: Collector's Edition. We provide all the digital materials you will need, but you will probably want to print things out.
How do the players prepare?
They have the choice of playing a pregenerated character (we provide) or may roll up 1st level characters using only RAW (rules as written) from the Player's Handbook.
How do I sign up?
Register at Gen Con!
Send a DM via Discord to Erogroth#7134 (make sure to join our Discord server) or email gencon@aawgames.com
Agree to our inclusive policies regarding running games.
Erogroth will provide you with materials necessary to run your games.
Coordinate with Erogroth to pick up your GM badge before the convention kicks off!
Final Steps
We will confirm your details and register the event. Please do not register the event yourself, as we'd like to have unified and consistent messaging. Once registered, you will receive everything you need to run your event.
Once your games have been confirmed, feel free to promote your games on social media, tagging AAW Games wherever you may go!
Happy Gen Con 2022!