Happy Halloween!
AAW Games has been working diligently and secretly behind the scenes on something spooky for your gaming group to enjoy on All Hallows' Eve.
Halloween DnD Adventures!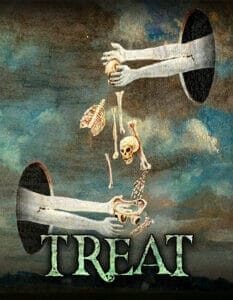 TREAT is a level 1 ready-to-play adventure that takes four of your favorite friends off on a ghostly good adventure into a demiplane in search of their own bones! 
TRICK is a level 2 ready-to-play adventure that is purrfect for four fur-baby friendly fanatics who like hot places… very hot places. 
These adventures are priced right at $3.33 each because we wanted you to have something special to play during your spooky Halloween-themed gaming session this year. 
Moon Patrol
We've partnered up with world famous artist Moon Patrol for these adventures. Moon Patrol's art is featured in museums, in an art book (currently sold out), and on his Instagram page. 
Trick or Treat Tradition
Each year we do something special to honor Joshua Gullion, a friend who left this world too soon. Halloween was his favorite holiday and he always urged us to release something unique at this time of the year for our fans and friends. We continue this tradition today and into the future in memory of Joshua. Happy Halloween, my fiendish friends!