You are viewing an archived post. To view the current version, go here.
K'Tarik is an adventure location, based in Aventyr but usable in any game system or setting. 
Savior of the People
Decisions made, the great battle
When Lieutenant Waychon of the Chonians disobeyed his captain during the most recent and major battle with Baevonia, he had already signed and served his own exile orders. Waychon's reasoning in doing so, was to save those under his command and their families, for he knew the battle was over before it began. After fleeing the battle on horseback, protecting survivors, Waychon looked back to see his captain and commanders cut down by the enemy forces; bowing his head, he rode off through a cloud of dust, cast as sapphire motes against the rays of the setting sun.  
K'Tarik
, a new home
After weeks moving from location to location, in search of water and food, Waychon settled here, at K'Tarik, the site of a strange temple and giant-sized gateway built into the side of the Baevonian Mountains. The Chonains have thrived here over the past month or so, building some rudimentary structures, planting gardens, tending crops, and beginning to settle into at least some semblance of their former lives. Of course, things are never easy in the Disputed Territories of Aventyr and an ancient evil stirring in the temple, rumors of orc hordes gathering in the mountains above, and the constant threat of a Baevonian attack all weigh heavily on Waychon and his settler's hearts.  
 
<
p aria-level="1″>
1. The Approach
After sneaking past the ogres in Ogre Valley and traversing a series of caves filled with booby-traps and stealthy Chonian soldiers, one emerges at the base a gentle hillside and a mountainous scene split asunder by a stunning slender waterfall. Grapes and berries grow wild on the hillside. Chonians tending to the vines will flee from any strangers, immediately summoning soldiers to converse with the outsiders.
 
2. Makeshift Village
The Chonian's have a few structures which appear to be hastily constructed and only used for daily chores and activities. One building is a stable and is home to horses owned by the former Chonian militiamen. There are almost 200 Chonians here, living both in the Gateway of Antiquity and the Pillars of the Planes locations. In the daytime there are typically 3d10+20 Chonians in area 2 while the rest are in areas 3, 4, and 5. 
 
3. Reincarnation Falls
Nicknamed by the Chonians settled here, this magnificent waterfall brings the most valuable commodity of all, clean water. The base of the beautiful waterfall is deceiving, appearing as a shallow pond but it is deeper than any here realize. Most of the water travels straight down a rocky tunnel at the bottom of a pond, while the rest trickles over the edge of the pond and down the hillside. The underwater tunnel leads about 1/8 mile into the Underworld where a tribe of eighty aquatic ahooling use the water to bathe, swim, and hunt. Anyone, other than an ahooling, attempting to engage this settlement will be attacked en mass.
 
4. Gateway of Antiquity
These gates stand as a testament to time and harken back even before the Grekians settled in this region. No one knows exactly who or what built the gates or what they were used for. Inside is a hall roughly 50 feet wide and 500 feet long, when the hall stops it breaks into a T, with doorways leading into large chambers 20 feet wide and 100 feet long. When the Chonians arrived, there were no ruins, rubble, debris, or any sign that anyone ever lived and dwelt here. Now, the Chonians have set up shop and live here, they even camp and sleep here. Stone gates, 10 feet thick, provide protection for the Chonian settlers throughout the night. The gates are opened in the morning and closed at night by pressing a single button set with an arcane rune.
Those who are perceptive and inquisitive may find a small rune at the T where the great hall dead-ends. Could the rune open a gateway to another plane? Summon whomever lived in these halls? Or perhaps it is trap? Only foolhardy adventurers would dare attempt to find out! 
 
5. Pillars of the Planes
This location is fully detailed in Mini-Dungeon Monthly #6. This is where the majority of Chonian soliders and priests are holed up. Waychon, Wo'Lan, Requn'Ma, and Iu'Opp are the most prominent figures and detailed in the sections ahead.
 
6. Goat path into the
Baevoninan
Mountains
Any characters attempting to take this route will be stopped by villagers, if they continue, they will be immediately fired upon by all Chonian soldiers. The goat path is treacherous and only five successful DC 18 Acrobatics (Dexterity) or Strength (Athletics) checks will prevent one from falling, possibly to their death. On up and over the rise, a clear path into the mountains can be found, this way leads directly into orc territory is peppered with bands of orc raiders that are mostly active at night. Those attempting to take this route will eventually gather the attention of the orcs which blow their warhorns, carrying the sound up and into the peaks where hordes of orcs gather and then spill down the mountainside, an unstoppable, riotous mob, of outraged, territorial killers.  
Welcome to Aventyr Adventures! A system agnostic series (with some D&D 5e) designed for GMs and players to enjoy the exploration of new lands together. These blog entries are 100% free for you to use along with existing Aventyr Campaign Setting content.
Explore and discover Aventyr, an exciting world where nature struggles to survive under the onslaught of so-called civilization, primal warriors summon powerful totems, and ancient secrets in the sky, sea, and depths of the earth wait to be discovered!
World Map: Locations Nearby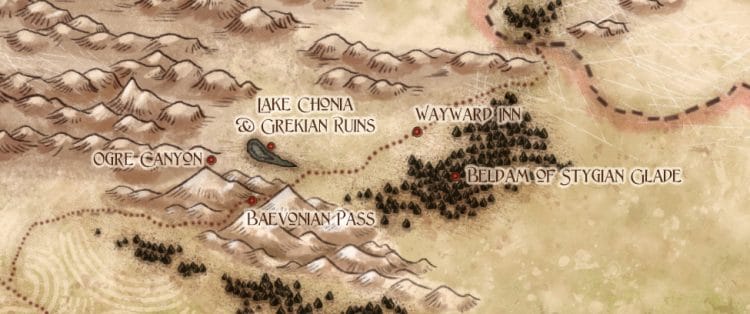 ~Credits~
Author Jonathan G. Nelson
Cartographer Jared Blando
Artists Ryan Jack Allred, Some artwork © 2015 Dean Spencer, used with permission. All rights reserved. 
Music Kevin MacLeod
Music from https://filmmusic.io
by Kevin MacLeod (https://incompetech.com)
License: CC BY (http://creativecommons.org/licenses/by/4.0/)