AAW Games announces Aventyr Adventures, a free blog-series for 5E on Adventureaweek.com
Aventyr Adventures is a new, system-agnostic series (with D&D 5e compatible content) designed for both players and GMs. These blog entries are 100% free to use along with existing Aventyr Campaign Setting content.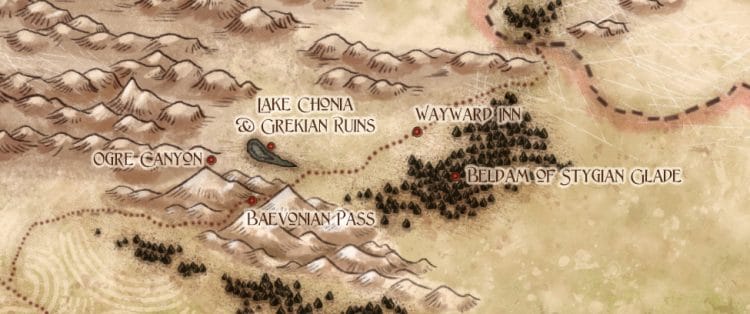 Explore Aventyr Adventures and discover an exciting world where nature struggles to survive under the onslaught of so-called civilization, primal warriors summon powerful totems, and ancient secrets in the sky, sea, and depths of the earth wait to be discovered!
Aventyr Adventures starts off in the Disputed Territories of Aventyr, a lawless and chaotic realm where multiple powers vie for control over strategic locations and limited resources.
The journey begins at the Wayward Inn, a roadside stopover on the way to greater lands. Food and water here are limited and going for many times above standard cost.
Recent war has shattered the Chonian people, with survivors now roaming the scrub plains, raiding and pillaging as they go. Rumors persist of a powerful witch in the forest to the east, orc hordes in the mountains to the south, and a Baevonian army gathering to the north. Although hearsay, these tales are driving travelers west, to Lake Chonia, where they may replenish their water reserves and seek shelter from the gathering storm.
This shared story may take you to Lake Chonia and into the ancient Grekian Ruins, or perhaps your adventuring group wants to investigate the rumors of a witch to the east; no matter which path you choose, there's danger abound and only the strong survive in the lawless lands of Aventyr.
Join us, for Aventyr Adventures!
About Aventyr
The Aventyr Campaign Setting is a 100% free-to-use setting available for use in any game system with some statistics compatible with the world's most popular roleplaying game.
https://adventureaweek.com/campaign-setting/
About Adventureaweek.com
Adventureaweek.com provides adventures, maps, Fantasy Grounds modules, and more to fans of 5th Edition, Pathfinder RPG, Starfinder RPG, and Savage Worlds. Subscribe for free today and download two files of your choice at https://adventureaweek.com/
About AAW Games
AAW Games is a tabletop games publisher located in Snoqualmie, WA. Known for titles such as the Mini-Dungeon Tome, Rise of the Drow, and Underworld Races & Classes, AAW Games strives to bring you the best creative content for your games. Find us on the web at https://aawgames.com/