The PCs have been swept up and transported by a gyeongsa warp storm, taken from elsewhere and dropped into the Disputed Territories of Aventyr and this month's theme: Tribal Troubles!
After a short time in the disparate, uncivilized lands, the party comes across the Ayaxan nomads. Receiving an Ayaxan lamp from the traveling gypsies, they've survived the sandstorm-whipped Alimpulosa, enduring sand blasts and the curse of the Ayaxa. After a night with the storytelling nomads, the adventurers have to best their finest warrior—Many-Handed Jakk—in a test of skill, strength, or blade.
Afterward the hoyrall takes them across the deserts and plains, bringing PCs to the locust-riding K'naghi Tribe. To make it to their Hanging Village, the adventurers have to survive fields of corruption blooms and the song of the ancestors; once they've passed the savanna, the Lord of the Locusts, Banthadar, comes down from on high. Once again the party must overcome a potent warrior of a tribe in the Disputed Territories, but once they have, they are accepted by the locust-riders as guests. Within they learn of the great Naghith, their patron of worship, as they are treated to a fine feast.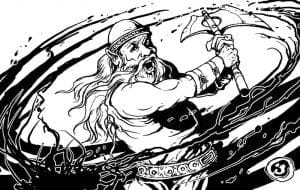 Before too long however, the PCs are forged in a Trial by Flight as savages begin destroying the elevated settlement, flinging boulders from primitive catapults onto the cliffside dwellings. Donning locust husk armor and astride the enormous insects, the adventurers help repel the attack and are directed towards a second assault by the Piseogach Clan—one against the forbidden temple of the god of locusts.
Tribal Troubles continue as the party makes their way across the savanna to the forbidden temple, encountering the superstitious savages. their unique powder of detection, and the magic-triggering Heresy Pass along the way, along with a few antimagic sensors if they're unlucky.
What are the Piseogach's Clan's intentions for attacking the forbidden temple? To find out, the party has to survive what awaits them in tomorrow's Sidequest Saturday as the adventure continues through the Disputed Territories in Tribal Troubles!
WE'VE HIT 1,000 LIKES on our Facebook page!
To celebrate the occasion we're handing out free 1 month subscriptions! Use coupon code LIKEAAW when signing up to snag your first month totally free!