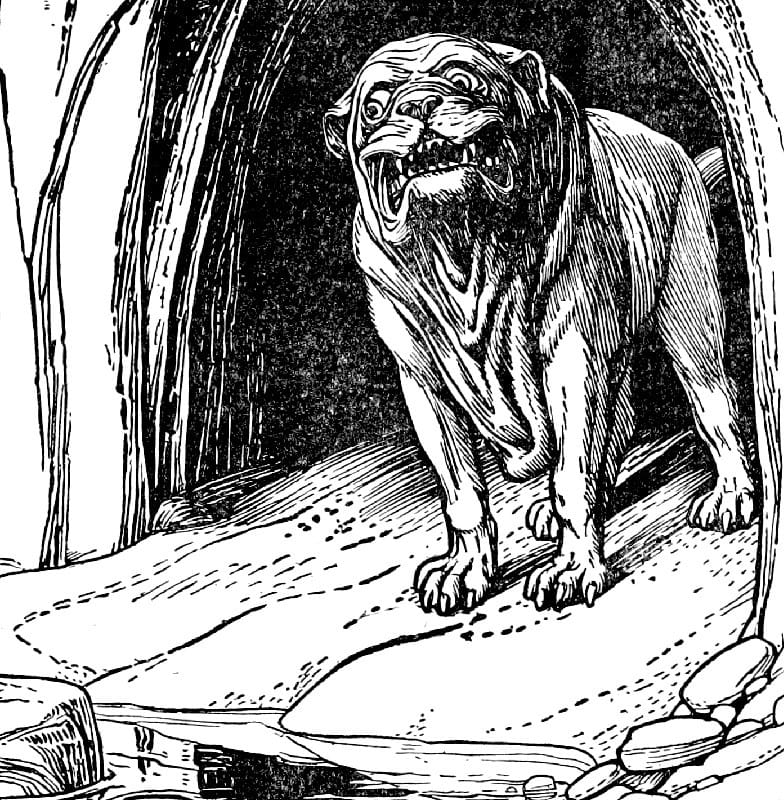 Those that travel the southeastern shores of NaeraCull know to be wary—ghosts (the canines of the dreaded (dead) pirate the Red Death wander the jungles nearby, dangerous incorporeal predators that attack anyone that enters into their territory.
When the undead dogs realize someone has entered the territory (within range of their darkvision or scent), they emerge from a cave a few hundred feet inland.
Sloshing waves slap against the sandy shore, and the cries of seagulls fill the air. Over their squawking you make out another animal noise—the barking of a dog. Another beastial voice replies and you realize their timbre is hollow and strange as two loping forms rush through the treeline, ignoring everything in their way as they charge towards you!
The Red's ghostly dogs continue attacking until they are either destroyed, intruders are knocked unconscious (or dead), or if their enemies retreat 500 feet away from the cave. In the event of the latter, the undead canines take cover and remain nearby, attacking anyone that passes over the threshold.
Once defeated, a cursory search of their cave reveals 5d10+20 gold and some rusty pirate equipment (of no practical use anymore). A thorough sweep of the chamber with a DC 14 Perception check finds a weathered old treasure map that leads to a buried chest down on the beach; within it is a seadog eyepatch [see this upcoming Magic Item Monday! -MM], but the Hungering Jungle's shores hold dangers all their own…