The AaWBlog's appetite knows no bounds, and the adventure path continues well past the Disputed Territories and Pradja.
Taking a valuable shipment of alligotonium down to Timeaus, the PCs are suddenly and inexplicably transported into an ambush beneath the authoritarian city of Nyamo! Throughout the month they fight off thieves, deceive guards, and either infiltrate or protect the airship production yards of the High Mages there. Whether the adventurers side with the (unjust) rulers or the beleaguered resistance movement, they ultimately leave the conflict on an airship!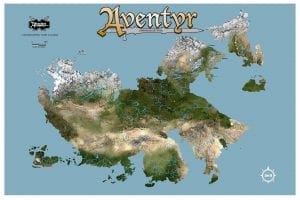 You are encouraged to check out these pieces of content for the adventure path here!
Naturally, the PCs don't get very far in their airborne vessel—a magical mishap sends them tumbling through dimensions to the strange demiplane of Uklonjen in Uralicans Uncut. Here the AaWBlog Adventure Path brings PSIONICS into the mix, as well as space jamming and all kinds of good stuff: portals to HEL, gateways to the Plane of Ooze, and all the cosmic adventure you can shake a stick at!
The summaries for November are here and here.
But we aren't done yet!
The AaWBlog Adventure Path continues in January with Lands of Ludolog—we'll see you then!