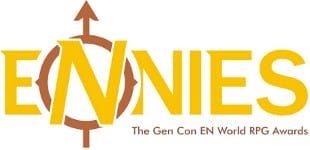 We are enormously excited about AdventureAWeek.com's nominations for two ENnies this year! It is a huge honor to be up for even one of these prestigious awards, and we are humbled to be counted alongside greats of the RPG industry like Paizo, Green Ronin, and Kobold Press.
Rise of the Drow is nominated for Best Adventure and the AaWBlog is up for Best Blog; please stop by the ENnies voting booth and cast your ballots for AdventureAWeek.com for 1st place in these categories, and express your opinion about the many other notable products and companies with the power of your vote!
Thank you, our readers, for making the AaWBlog the popular place it is and for coming back every day for more great Pathfinder and gaming material; we do it all for you! Help us bring home an ENnie (or two!) and make sure to get your ballot in before voting ends on June 30th!