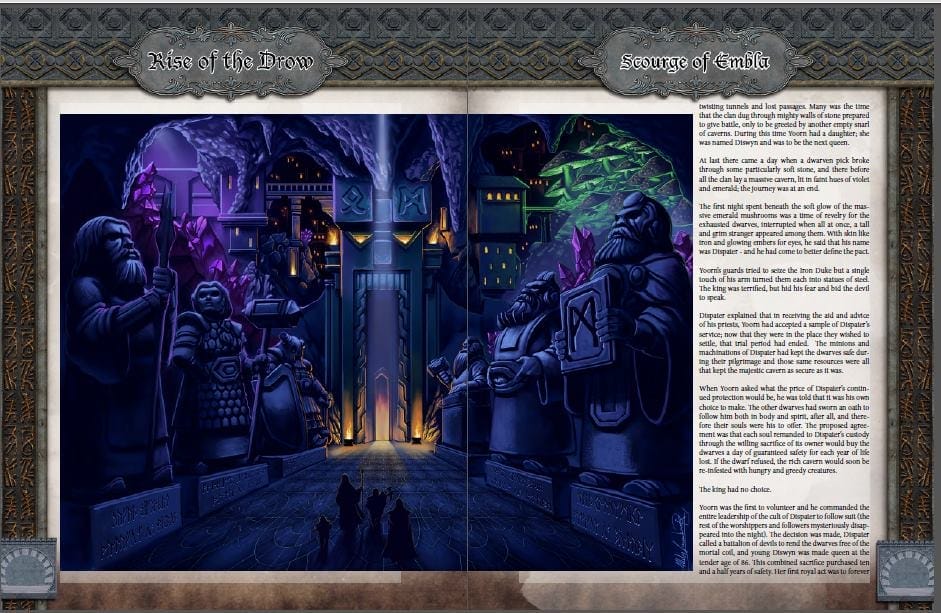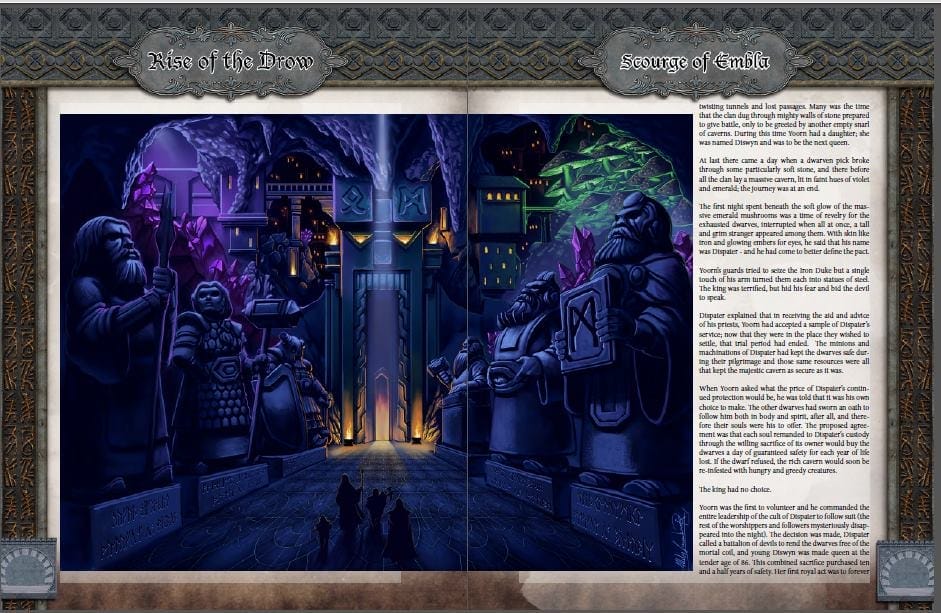 Ladies and gentlemen, subterranean and surface elves, traditionalist and radical dwarves—the Rise of the Drow PDF is now available!
This enormous tome brings the fantastic trilogy of adventures detailing the dubious doings of the drow of Aventyr's Underworld above the surface and into your game!
Within the Rise of the Drow PDF you'll find a multitude of veteran industry designers like Brian Berg and Christina Stiles, inimitable illustrations by the likes of Jen Page and Jacob Blackmon, and more content than you can shake a +5 greatclub at. The beautifully rendered artwork and carefully crafted prose in Rise of the Drow creates an innovative and original subterranean setting for both the Dungeons & Dragons 3.5 rule set AND Pathfinder, filled with numerous new creatures, equipment, magic items, spells, feats and interesting NPCs that breathe life into the world beneath the surface! Never before has such an amazing book brought together this kind of celebrity-studded cast of artists, cartographers and designers!

Grab your copy today and terrorize players with the bestial blood-sucking ahool, instill wonder with the fantastic Fungi Forest, and pique their interests with the intrigues of the diabolical drow of Holoth!
You can read more about what's in store here, but if you aren't interested yet, how do you feel about…
A dozen drow houses, some at the height of their power and others that lurk in the darkness, waiting for their moment to strike!

The brand new Mushroom domain, filled with a retinue of fun new spells guaranteed to garner the interest of any nature-minded spellcaster!

Several incredible dungeons and locales—including the cavernous expanses of Jorumgard (designed by Owen K.C. Stephens of Green Ronin and Rogue Genius Games)—perfect from dropping beneath the surface of any campaign setting!

Hosts of carefully constructed NPCs suitable for appearances both on the world above and beneath!

Countless new cleverly designed mechanics and mini-games sure to ensconce your players in the Rise of the Drow!
Have you collected rations?
Sharpened your steel?
Filled your components pouch?

Then grab your copy of the Rise of the Drow PDF now and delve into the depths of Aventyr's Underworld without delay—who knows how much longer the machinations of the dark elves will be contained beneath the surface!