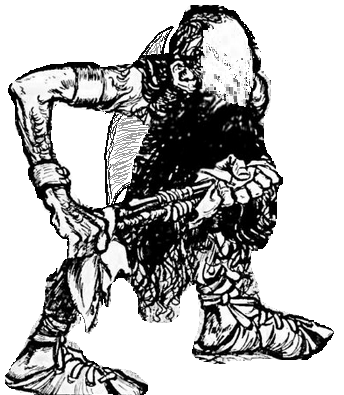 A smooth bone covers the front of this creature's head, a pair of slender wings folded neatly behind its back. The void of facial features gives off a chilling presence as you gaze upon it.
Silent Devil (Ipalolo) CR 11
XP 12,800
LE Medium outsider (devil, evil, extraplanar, lawful)
Init +9; Senses darkvision 60 ft.; see in darkness; Perception +12
Aura unholy (20 ft., DC 26)
DEFENSE
AC 28, touch 12, flat-footed 26 (+2 Dex, +16 natural)
hp 154 (14d10+70) fast healing 3
Fort +14; Ref +6; Will +14
DR 5/good; Immune silence, cold; SR 19
OFFENSE
Speed 30 ft., fly 50 ft. (perfect)
Melee 2 claws +19 (2d6+6, Crit 17-20/x2), tail slap +14 (1d6+6)
Special Attacks silencing touch (Will 22 DC)
Spell-Like Abilities (CL 12th; concentration +17)
At will—deeper darkness
5/day—improved invisibility, suggestion
2/day—summon (level 4, 2d4 hello hounds 90%)
TACTICS
Before Combat Ipalolo devils usually hide in wait, offering what the victim wants most, hoping for the creature to turn against it own before summoning a lesser creature to attack enemies first.
During Combat If no prey take its bait, the ipalolo devil strikes shortly after its summoned creatures attack, targeting good-aligned casters to silence them, methodically wiping out spellcasters first. With each death the ipalolo devil tries again to bargain with the remaining creatures for what they most desire.
Morale Ipalolo devils fight until below 30 health before fleeing.
STATISTICS
Str 23, Dex 14, Con 18, Int 20, Wis 18, Cha 15
Base Atk +13; CMB +19; CMD 26
Feats  Critical Focus, Critical Bleeding, Flyby Attack, Improved Critical (claw), Improved Vital Strike, Skill Focus (stealth), Vital Strike
Skills Acrobatics +19, Bluff +19, Diplomacy +19,  Fly +19, Intimidate +19, Knowledge (arcana) +21, Knowledge (planes) +21, Perception +20, Spellcraft +21, Stealth +25, Survival +20
Languages Celestial, Infernal, Undercommon;  telepathy 100 ft.
SPECIAL ABILITIES
Silencing Touch (Su) The ability functions as the spell silence except that is targets a single target instead of an area. The silenced creature is not immuned from sonic- or language-based attacks, spells, and effects. This ability is included in all melee attacks the Ipalolo devil makes, and directly bypasses spell resistance.
Wicked Claws (Ex) An ipalolo devil's claws are abominably sharp and deadly, dealing 2d6 slashing damage on a successful hit and possessing a natural critical threat range of 19-20/x2.
Ipalolo devils serve directly under dukes or counts of hell, largely so that they may sow distrust among the lesser creatures of the planes. These creatures love the feeling that washes over them when they've successfully convinced comrades to fight each other to win what they want most from life, regardless of what that might be. Ipalolo devils are solitary creature enjoying silence most in life (aside from initiated squabbles). It is not known if the smooth bone over the ipalolo devil's face is its own, or a mask the creatures like to wear.