Sometimes, you use a trap to help your PC's, giving them a taste of what is ahead.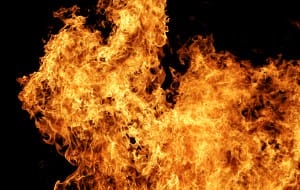 Scorch Marks (CR 2)
Opposite the door are scorch marks on the wall.
Type: mechanical; Perception DC 18; Disable Device 17
Trigger location; Reset Repair
Effect
When a character gets within 15′ of the door, a timer starts. If they do not open the door within 2 rounds, a gout of flame shoots out from the door. Flame(DC 16 Reflex Save or take 1d4 fire damage); multiple targets(all targets in 15′ cone)
This is a good trap to have near the beginning of your adventure. Why? Most traps help set the tone of your adventure. In this case, the characters who take their time will get burned (literally). It won't do much damage, but it will help you set up later encounters, especially if they are time critical. Having been burned once, PCs are less likely to dilly-dally. If you do have time critical encounters, this trap will also prepare your PCs, giving them a greater chance of success, which is, after all, much more fun for everyone.