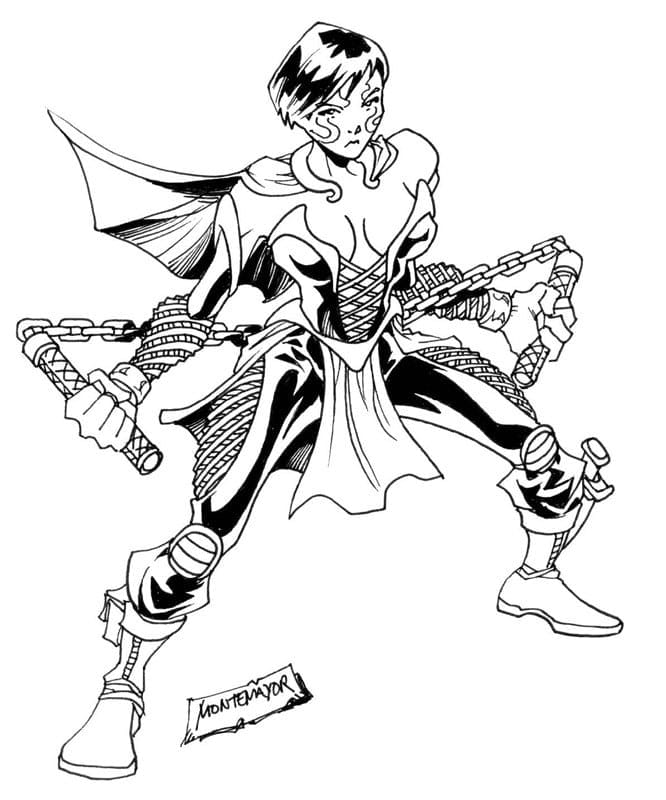 Rhythmic Nunchaku
Aura moderate enchantment; CL 7th
Slot none; Price 25,152 gp; Weight 2 lbs.
DESCRIPTION
This nunchaku is made from two ornate, beautifully wrought metal bars connected by a simple steel chain.

Three times per day as a free action, a monk making a flurry of blows with this +2 nunchaku gains a bonus to hit an opponent based on the number of times it has already successfully hit that opponent. Each time the wielder successfully strikes an opponent with a melee attack during a flurry of blows, they gain a cumulative +1 morale bonus on attack rolls (maximum +4 bonus) and gains 3 temporary hit points (to a maximum of 20 temporary hit points). If an attack misses, the attack bonus resets to +0, but any accumulated temporary hit points remain. The temporary hit points and morale bonuses on attack rolls disappear 7 rounds after the first flurry of blows is resolved.
HISTORY A character that makes a Knowledge (history) check to learn about rhythmic nunchaku identifies the following fragments of lore:
DC 15     The first wielder of rhythmic nunchaku was said to travel the lands far and wide many centuries ago. His prowess in combat was legendary, and it is said that he has seen him in unfair battles. fighting on the side of justice. None have ever captured him or claim to have spoken to the mysterious warrior, but tales of the Rhythmic Pugilist persist.
DC 20     Each generation has its own Rhythmic Pugilist; the sacred order raises all of their kin to assume the position, and every three years tournaments are held to determine whom will hold the mantle. The finest warriors to rise during this training period receive rhythmic nunchaku, ever ready to take the place of their peer should they fall.
DC 25     The Rhythmic Pugilist has never been a man. A warrior cult of female monks carry the tradition maternally, avoiding revealing their gender whenever possible. Their nobility is matched only by their staunch secrecy, and some loremasters know that those who learn of the Rhythmic Pugilist's true origins often meet with untimely, quiet ends.
DC 30     A princess of the realm first wielded the rhythmic nunchaku, taking up the whirling weapon in the name of the oppressed peoples ruled over by her father. She oversaw the fall of his tyranny, and instilled the order of the Rhythmic Pugilist. It has become an honored, clandestine royal organization, its secret known to only a handful of the nobility.
CONSTRUCTION
Requirements Craft Wondrous Item, heroism (3.5) / righteous vigor (PF); Cost 12,752 gp 511 xp
Do you have an idea for an enchanted sword, arcane-empowered armor or unique magic item? Take a look at the submission rules and send a brief summary of your proposed enchanted item titled 'Armory of Adventures submission' to submit(at)adventureaweek.com with the following:
the nature of the item (weapon, armor or wondrous)

one or two sentences about its appearance

what the item in question does

the components and spell(s) used in its construction