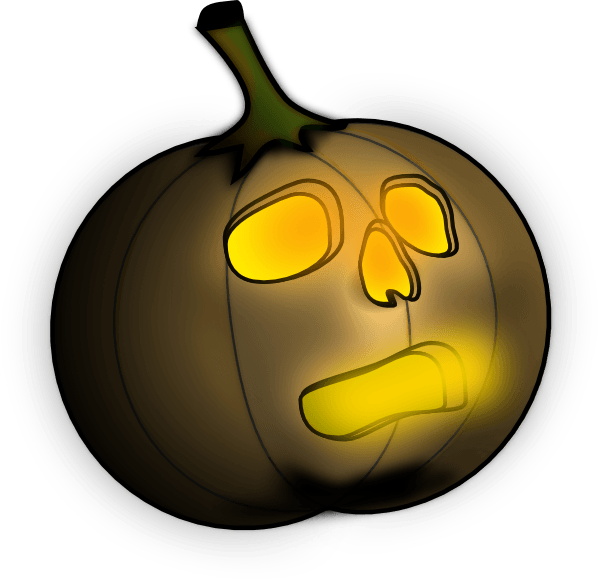 Jack-o-Lantern
Aura strong necromancy; CL 15th
Slot none; Price 6,000 gp; Weight 5 lbs.
DESCRIPTION
This pumpkin has a frightening visage carved into the front of it and a light from inside casts flickering shadows across the walls.
When lit a jack-o-lantern projects shadows on the floor, walls and ceilings within 30 ft., all taking on the shape of the carving on the pumpkin. There are as many as 2d4+1 of these shadows projected. The projected shadows require a DC 18 Perception check to spot. Each of these shadows can make a melee touch attack vs. a single target with a +4 bonus, dealing 1 Strength damage on a successful hit (no save), and causing the target to be frightened for 1d4 rounds, or shaken for 1 round if a successful DC 15 Will Save is made. The shadow disappears after the attack, successful or not. The shadows can be destroyed by exposure to sunlight or the equivalent; when they have all attacked or been destroyed, the jack-o-lantern's light winks out.
The pumpkin itself can be physically destroyed (AC 5, 2 hp) but if it is physically destroyed, the light immediately goes out and a single shadow streams out of the pumpkin, attacking the jack-o-lantern's destroyer. There is a 5% chance that shadow is a greater shadow.
Once lit, the pumpkins are active for 8 hours, and then they no longer function. They do not function in daylight.
HISTORY
DC 15     Bad things happen to those that disturb a jack-o-lantern.
DC 20     Jack-o-lanterns are often found near and around occult ceremonies.
DC 25     Jack-o-lanterns are deployed to guard their own.
CONSTRUCTION
Requirements one pumpkin (5 lbs. or more), create undead, cause fear; Cost 3,000 gp
The Macabre Manse's grounds have been liberally sprinkled with jack-o-lanterns—the mere sight of these keeps most at bay.