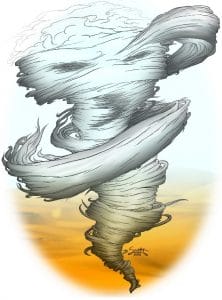 Precisely where I got the idea to make the AaWBlog a months-long, continuing plot is unknown to me. Fortunately it seems to be going well, and for that, a tip of the hat needs to be given to the most frequent of the AaWBlog crew: Brian Wiborg Monster, Justin Andrew Mason, Tim Snow, and Rory Toma!
This wild ambition began with Tribal Troubles. A mysterious creature appears and sweeps the PCs off to the Disputed Territories of Aventyr where they interact with three tribes of natives before breaching an ancient temple. Within they awaken a dangerous, timeless creature, along with a powerful sword that can sweep them away to Pradja, following a curious photograph that talks of the party's death!
Definitely take a look at the summaries here and here!
The AaWBlog adventure path continues in the tundra of northern Aventyr, along the railways of gnomish engineers and laymen laborers. Our adventurers travel to Steamtown, embroiling themselves in a proletarian conflict centered around a strange, prophetic news sheet! Alligotonium, a mineral integral to the adventures to come, makes its appearance in these series of articles.