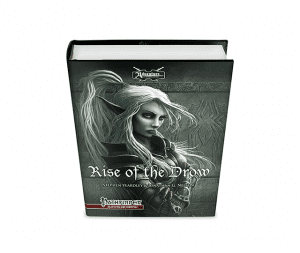 I've had the pleasure of working with several different publishers, making material for use within a number of established campaign settings (Fantasy Flight Games, Frog God Games, AdventureAWeek.com, LPJ Design, Amora games, and more). If you're breaking into writing and want to work in this field, I've garnered a few things from my (still comparatively few!) experiences creating content within the confines of broad, cherished worlds.
1. SKIP YOUR RESEARCH
If they haven't sent you material for research or it isn't freely available, ask for it. Even if it gets rolled into your pay a little bit, having this on hand will save everybody time in the end, establish that you are professional, and will see that your material resonates with fans of the existing product. Make notes for yourself (I made an entire visual Neo Exodus timeline) and refer to them often. Check d20pfsrd.com to see if any key creatures exist in their setting if you aren't already intimately familiar with it—you'll be glad you did.
Immersion is the name of the game with this one. Don't get your feet wet, jump in.

2. WRITE YOURSELF INTO A CORNER
That timeline should come in handy for this, but a good general rule is to avoid absolutes. Making something that prohibits the existence of another element (undead is the popular one here, but serpentfolk get slapped around like this too) inside of a world is generally something that the original creators have already made a decision about. That's not to say you can't break precedent (see below), just that as a general rule of thumb, you want to supplement an existing IP, not complement it.
Write to enhance the setting, not evolve it.

3. LEAP BEFORE YOU LOOK
Submit an outline first and avoid surprising the person receiving your material. While the extra content you designed might be fun, there are myriad reasons for why it might not be a good fit (a similar piece might already be in the works, it may be prohibitive because of something you didn't know about, etc.) and that's why this part of the process should never be overlooked. If you do end up adding more content or material than originally requested, make certain that it's inside of the themes and aesthetic already present in your work and the larger library of material.
Clear your big ideas with the people upstairs first.
4. BE INFLEXIBLE
You're playing in someone else's toybox; if they want the red car, give them the red car and find a new toy. Be prepared for some of your ideas to get shot down or become morphed into things you never anticipated or intended. Try to improve the process by cooperating—collaboration can cause some truly beautiful confluences and is not to be underestimated. There's a lot of sayings for that, but we'll hold off on the metaphors here. Just be open to compromise—you'll be pleased with the results.
Be agreeable and things will be agreeable.
[EDIT] Ryan Macklin has a great blog post that went up earlier this week about pitching your game. It is fantastic and you should definitely read through it for your own sake as a writer. I will point out that when he 'pitched' Mythender at me, he did so while dramatically spinning and yelling in my face (which I don't personally recommend, though it was definitely effective).

Do you have a contribution or idea for Meta Thursdays?  Send us your ideas (after reading the submission guidelines) to submit(at)adventureaweek.com with "Meta Thursday" in the subject line!