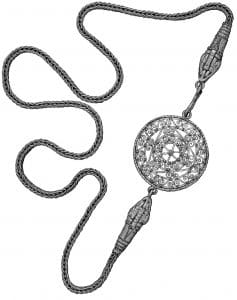 Ashen Choker
Aura strong enchantment; CL 17th
Slot neck; Weight 1 lb.
DESCRIPTION
Before being worn this item appears to be a wondrous piece of magical jewelry; a DC 18 Knowledge (history) check reveals it is from the outskirts of Ravine. As soon as it is worn by a creature it transforms into a thick, rounded piece of ash that attaches to the wearer's neck, transforming them into a mutant (if they are not already a mutant, roll once on the table below). [More on mutants tomorrow! —MM] Once the painful transformation is complete the wearer is under the effects of a permanent charm monster spell towards whomever attached the ashen choker and convinced via a suggestion effect that any attempts to remove it will result in instant death; these compulsions remain until the ashen choker is removed and the wearer does not receive a saving throw to negate either the charm monster or suggestion effects. After the ashen choker is removed, a transformed creature returns to their natural state after a number of days equal to double the number of days they wore the cursed item.
CREATION
Magic Items necklace of adaptation, necklace of fireballs, necklace of ki serenity
Ashen Choker Mutation Table
The wearer suffers the Ashen Death; roll on SL-2: Transgression Mutations. [

Tomorrow!

—MM

]

The wearer's skin sags, cracks, and becomes horned, resulting in a -2 to all Charisma-based skill checks.

One of the wearer's legs expands, becoming a large slab of meat. The wearer can no longer be tripped or go prone but takes a -4 penalty to Dexterity.

Pus fills the wearer's sweat glands giving the creature the stench monster ability

(DC 15, 10 minutes)

. Unlike normal, this affects the mutant.

Large prongs extend from the wearer's hands, making it so it can't use manufactured weapons and suffers a 35% chance of failing to cast any spell with a somatic component. The wearer gains two claw attacks as secondary attacks as well as the attach monster ability.

The wearer's eyes become large crystals that extend a few inches past their nose, granting darkvision 60 ft. and low-light vision, but sunlight powerlessness as well.
[Submitted by Tim Snow!]