The adventurers have made it into the Shlyappa zwerc enclave and are shadowed by a mysterious dwarf soon after: lysyy the hat merchant. He pleads with them to investigate the strange happenings in his storeroom, and the PCs find a bit of dust (as well as a deadly earthen mimic!) that can only lead to the Granite Grotto. The party uncovers P.R.A.N.K.S.T.E.R. smugglers in the unique cavern and would put an end to the illicit operation right there, but are held at bay by ignis the stonespeaker.
Though the trail is momentarily lost, a young dweorg boy flags the adventurers down and directs them to a side tunnel where the criminals fled. Unfortunately the dwarf reveals itself as a lethal and maddened gitwerc underterror not long after and when the PCs catch up to the P.R.A.N.K.S.T.E.R.S. the ne'er-do-wells cause a cave-in that threatens to kill everyone! Finally after prevailing against these deadly challenges, the adventurers take one last long walk through tunnels before emerging in a marsh somewhere in Aventyr.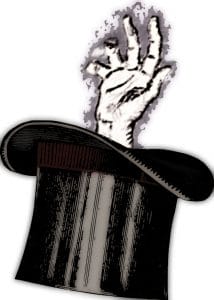 Stealing Stones has been designed with a sandbox approach and there are several other articles to use when running this part of the AaWBlog Adventure Path [the first post tying this month together is located here. —MM]. Six dwarves—all whom once knew Doc—lost their lives in or near Shlyappa and many of them are still tethered here, haunting the numerous passages and tunnels (and ideal for a sidequest of a GM's devising: sneezing bell haunt, Bailey's hat, graceless cackle haunt).
Of course we've also got traps galore (the replacement hat trap, festering crown fireball trap, hat rip trap) as well as a treatise on Subterranean Adventures by Justin Andrew Mason, and then of course, several new magic hats (infested tam o'shanter, maculos mask, Klavekian mining cap). Unlucky adventurers may even pick up the cursed amber attenuator somewhere along the way and have an even tougher time in the zwerc enclave!
It's been an exciting build-up and we're steadily moving toward a crescendo, so make sure to join us throughout August as we take the party through the Vast Swamp of Aventyr in Bogs of Bane!