Ravine
Built into the crust of Aventyr in the central portion of the Scorched Lands is the city of Ravine, the largest settlement of the region. Hovels and dwellings crowd the sides of the busy canyon walls, while the surface level is left almost completely barren save for the sheltered guard posts and canyon lifts.. At the lowest level a stream of fresh, cool water runs throughout the canyon floor, created from a natural aquifer deep underground that runs south and west into the fissures. Pilgrims of all sorts have lived and survived here for centuries, each generation building dwellings closer and closer to the surface as space becomes more limited. The most prized and ancient of dwellings near the canyon floor are sought after and conspired for, often in the nearby market level's giant lifts (spaced sporadically throughout to ferry goods to and from the surface on giant rock-counterweight scales).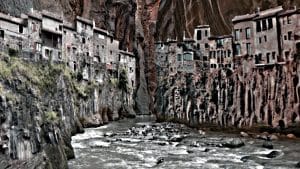 Silver plated reflectors set up along the sides of some of the canyon walls reflect sunlight into special cutout terraces that, with irrigation from the stream, provide food for the citizens.
Ravine is run by an elected mayor that serves a five year term and all positions of power within the city are elected officials or appointed by the mayor.
RAVINE
N metropolis
Corruption +4; Crime +1; Economy +7; Law +5; Lore +6; Society +6
Qualities notorious, prosperous, rumormongering citizens, strategic location, superstitious, tourist attraction
Danger +20
DEMOGRAPHICS
Government autocracy
Population 75,000 (48,000 humans, 7,000 half-orcs, 6,000 half-elves, 14,000 other)
Notable NPCs
     Mayor Wells Sunprince (N Male half-elf rogue 13)
     Kara the Sun Flea (NG Female human investigator 5/bard 4) [this week's Statblock Sunday! —MM]
     Master Pilgrim Sandra Waster (LN Female half-orc ranger 8)
MARKETPLACE
Base Value 35,692 gp; Purchase Limit 225,000 gp; Spellcasting 8th
Minor Items *; Medium Items 4d4; Major Items 3d4
[Ravine by Scorched Lands writer Lance Keppner!]