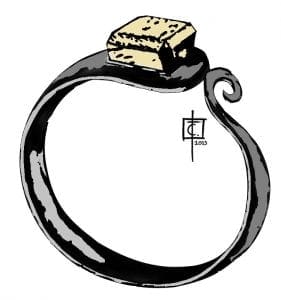 Pradjna is rich in alligotonium, and many think that their centers of knowledge and magic owe much of their existence to the early ease of access to this wondrous material. Many magic items have been crafted from the demon ore—everything from mighty swords and wands to lowly frying pans and kitchen knives.
Items made from this ore also have another unique ability; they attract hellion revenants. A hellion revenant attempting to possess an item that is within 10 ft. of an item made from alligotonium must make a DC (15 + CL of item) Will save or the alligotonium item is possessed instead. As such, "worthless" magic items made of the ore are often carried or stored near more powerful magic items, hoping that the possessed possessions are these minor items, not the more powerful one. Once a revenant possesses an alligotonium item, it cannot willingly leave. Only a remove curse or the destruction of the item causes it to leave.
Any number of hellion revenants can reside in a single alligotonium item—while this sounds like a bad thing, it is actually helpful. When a revenant possesses an item, it can cause it to malfunction in random ways. The chance to malfunction is based on the CL of the item and the number of revenants inhabiting the it. Minor possessed magical items are somewhat highly prized by the upper class in Pradjna; they often give them as prank gifts for fun. A CL 3rd or below possessed alligotonium item often fetches between three and five times its normal asking price.
Misfortune Table: The percentage chance for misfortune from an item is (50/CL) / (# of revenants in item), rounded down. For example, a CL 3rd item with one revenant has a 16% chance of a misfortune, while the same item possessed by 2 revenants only has an 8% chance of misfortune with each use. The strength of the misfortune is also based on the caster level of the base item. Roll on one of the percentile charts below to determine the misfortune effect.
When an item injures someone or otherwise acts strangely, make sure to play it up! A frying pan spits its hot contents back into the face of the user, or a blacksmith's hammer bounces off the anvil and hits its wielder in the face! Much fun can be had—especially if the PCs unwittingly use some of these items in the course of performing otherwise mundane acts in and around Steamtown.