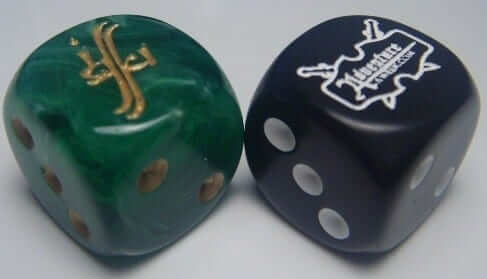 A few weeks ago I went on about fudging dice rolls; Brian Wiborg Monster had so much to say about it, he's getting an entire post.
Enjoy, folks. -Mike
 "The boulder crushes you underneath and you take 50 points of damage."
"Ahhrrww I am dead then, well I guess I have to roll up a new…"
"What, no, wait, you only take 12 points of damage."
"Oh then, I'm still up"
The above exchange between a GM and player exemplifies everything I hate about fudging dice rolls, even if the convention can be necessary to keep the game going. Fudging to keep a character alive can be essential, but when a weak GM takes away the thrill and excitement from the game it is wrong on so many levels.
We all love playing in extended games, but most of us have stumbled upon a campaign or GM where something is off. We can't quite put our finger on it…until someone avoids certain death by blatant interference from the GM (oh no, I ended up in one of those boring campaigns where you can't die!) Now I know we have seen games where the GM plays favorites, but that subject is for another day; this is purely about campaigns where the characters are immortal because the GM is afraid to let anyone die.
It takes away from the excitement and tension; if my character can't die, why should I even think about his actions? Without real consequences, he'll just do everything on a whim. We will never run or surrender, just keep fighting against overwhelming odds (because we know the GM will save us). I must say, I despise it.
All this rambling leads me to the sentiment that I am an evil GM. Or am I? Perhaps instead I'm a GM that runs campaigns where actions have consequences (balanced consequences I like to think).
I recall an occasion where I used an unconscious character as a hostage – I gave her back, but by then she was bound to a lit witch's pyre while an evil psyker directed mobs to block the remaining characters' from reaching her, with screams of "burn the witch" echoing down the alleyways.
This was set on a pleasure planet in a certain dark future of mankind setting (Where there is only war! -MM). Should the character have died horribly? Yes, she should have. That would have made me evil, but details ensured her survival. First, the group really worked well together to rescue her. Secondly, the planet was in lockdown due to a festival (yeah you know the adventure now, don't you?) that would have made it difficult to get a replacement character. Thirdly, I was having a good day! No, seriously, the group worked together and legitimately saved the character.
In said campaign, a few rules were made painfully clear when playing with me as a GM:
1) Don't split the party.
2) Don't run down dark corridors on your own, unless you want to spend the rest of the session doped up on painkillers to function after your chest has been shredded by combat shotguns fired from ambush.
3) Don't trust a clergyman, ever.
4) Don't split the party. Never ever.
Now I might add, forget rule #1 and #4, because if I want you to split up, it will happen. It is my experience that the coolest things happen when the party is divided, because those times are the most risky in terms of character death and maiming. With that said, it is important to remember that the rewards in those situations should be higher as well.
Sneaking alone after an informant to a clandestine meeting is dangerous, but learning where the identity of other members of the cult makes the risk worth it. Being discovered eavesdropping on a secret cult meeting will most likely result in a ritual sacrifice to send a message, with you being that sacrifice, unless you run and run fast.
Evil? Yes.
Fun and exciting? Yes.
Boring? No way.
To sum everything up:
-Don't be afraid to kill characters. It keep players excited and interested in their own charges as well as those of the rest of the group.
-Don't kill just for the sake of it. Say to yourself, "What would BBEG (big bad evil guy – MM) do to a hostage at this point in his plan?", and act accordingly. It is not a James Bond flick where the BBEG traps the hero, explains his grand scheme and how the hero could theoretically stop him, all the while laughing like a madman.
-The players should not necessarily fear you, but they should fear certain things in an environment, a name, a place, or a situation.
If they end up hating you for my ramblings, or should you find them useful, remember one thing:
Oderint Dum Metuant
Let them hate, so long as they fear
 Do you have a contribution or idea for Meta Thursdays?  Send us your ideas (after reading the submission guidelines) to submit(at)adventureaweek.com with "Meta Thursday" in the subject line!