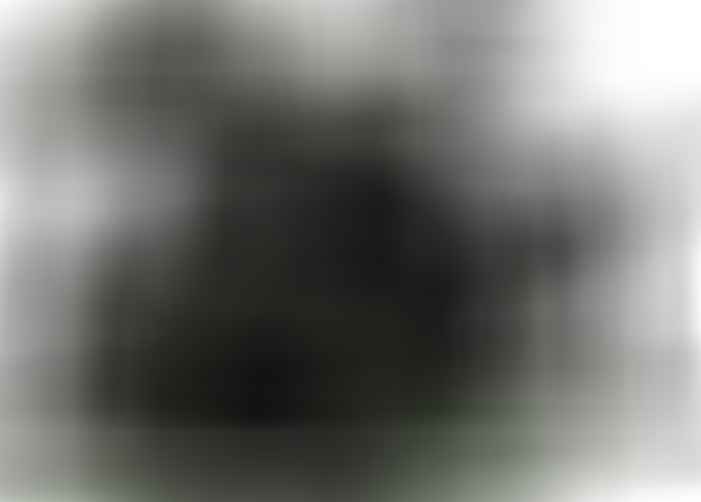 A writhing mass of tentacles and teeth bursts from the ground. Whipping limbs surround its wide, tooth-filled maw, and its entire body is marked randomly with eyes—everytime you look at the them they appear to be in a new place. Reality swirls in waves around the monster as the world tries to push it back to the nightmare that spawned it.
Nogth Ma'klurl'uth, the Madness Slug CR 13
XP 25,600
CE gargantuan outsider (chaotic, evil, extraplanar)
Init +2; Senses darkvision 60 ft., tremorsense 60 ft.; Perception +23
DEFENSE
AC 29, touch 4, flat-footed 29 (+25 natural, -2 Dex, -4 size)
hp 184 (16d10+96) regeneration 5
Fort +16, Ref +9, Will +16
DR 15/magic; Immune acid, cold, mind affecting effects, paralysis, sleep; SR 18
Defensive Abilities acidic blood
OFFENSE
Speed 20 ft., burrow 40 ft., swim 20 ft.
Melee bite +24 (4d8+12), 4 tentacles +22 (2d6+12 plus grab)
Space 20 ft.; Reach15 ft.
Special Attacks breath weapon (60 ft. cone, Will DC 24, 1d6 wisdom drain), swallow whole (4d8+12 bludgeoning damage, AC 22, hp 18), feeding tentacles.
STATISTICS
Str 34, Dex 6, Con 22, Int 12, Wis 18, Cha 9
Base Atk +16; CMB +32 (+36 grapple); CMD 40 (cannot be tripped)
Feats Blind Fight, Bloody Assault, Great Fortitude, Improved Initiative, Improved Natural Armor, Iron Will, Multiattack, Power Attack
Skills Knowledge (arcana) +20, Knowledge (planes) +20, Perception +23, Sense Motive +23, Spellcraft +20, Stealth +17, Swim +31
Languages telepathy 120 ft.
SQ Change shape (drow witch; see below)
SPECIAL ABILITIES
Acidic Blood (Ex) Nogth Ma'klurl'uth's blood can corrode metal on contact. If a creature damages Nogth Ma'klurl'uth with a piercing or slashing weapon made of metal, Nogth Ma'klurl'uth's blood deals 5d6 points of acid damage to the metal weapon (unlike most forms of energy damage, this damage is not halved when applied to a metal object, although it does still have to penetrate the metal's hardness). The weapon's wielder can halve the damage the weapon takes by making a successful DC 22 Reflex save. Creatures made of metal that deal slashing or piercing damage to Nogth Ma'klurl'uth with a natural attack take 5d6 points of acid damage (a DC 22 Reflex save halves this damage). The corrosive elements of the blood fade 1 round after it leaves Nogth Ma'klurl'uth's body or it dies. The save DC is Constitution-based.
Aura of Madness (Su) Any creature within 15 ft. of Nogth Ma'klurl'uth must take a DC 20 Will save or fall under the effects of a confusionspell (CL 16th) for 1d10 rounds.
1-25      act normally
25-50     do nothing but babble incoherently
51-75     deal 1d8 points of damage + Str modifier to self with item in hand
76-100   attack nearest creature (a familiar counts as part of the subject's self)
Whether or not the save is successful, that creature cannot be affected again by Nogth Ma'klurl'uth's aura of madness for 24 hours. This is a mind-affecting effect.
Breath Weapon (Su) Swirling mass of solidified madness. 60 ft. cone, Will save DC 24 to negate, 1d6 wisdom drain. Nogth Ma'klurl'uth can use its breath weapon once every 1d4 rounds. An opponent reduced to zero or below in wisdom by Nogth Ma'klurl'uth's breath weapon gains a severe insanity from the list below (curable DC 24).
1-3      paranoia
4-6      schizophrenia
7-9      psychosis
10-12   multiple personality disorder
See the "Sanity and Madness" section in Chapter 8 of Pathfinder Roleplaying Game: Gamemastery Guide for the specific rules of each one of these types of insanity.
Feeding Tentacles (Ex) Nogth Ma'klurl'uth can transfer one creature with the grappled condition from a tentacle to its mouth as a free action at the beginning of its turn. The creature does not lose the grappled condition during the transfer and starts in Nogth Ma'klurl'uth's mouth with the grappled condition to be either swallowed whole or bitten.
Ferocity (Ex) Nogth Ma'klurl'uth continues to fight even when reduced to negative hit points.
Horrific Death (Ex) When Nogth Ma'klurl'uth is first reduced to negative hit points, creatures within its reach take 1d6+16 acid damage. While at negative hit points, Nogth Ma'klurl'uth adds a bonus to all damage equal to its hit dice (16). When it finally dies, Nogth Ma'klurl'uth dissolves into a pool of unidentifiable goo and reforms on the Plane of Madness after 101 years.
Madness Without, Madness Within (Ex) Nogth Ma'klurl'uth is madness given form and as such its insides consists of swirling fragmented visions of a variety of insanities. Any creature that has been swallowed whole must make a DC 22 Will save before attempting to cut their way out of Nogth Ma'klurl'uth. Failure results in the creature using its turn trying to maintain their precious grasp on reality; a new save may be attempted next round. Success means the creature can attempt to cut its way out and no further saves are necessary. This is a mind-affecting effect.
Voidborn (Ex) Nogth Ma'klurl'uth can exist safely in the void of space or similar hostile conditions.
The demiplane of madness is a maelstrom of insanities. The ground is a deluge of mud made of madnesses that has lost their potency—now they lie dormant and make up the ground of the plane. From this mire structures rise, but not in any conventional sense: floating towers, inverted houses, and structures that are there one moment and gone the next are common. The inhabitants of the plane are no less weird than the dimension itself. Hordes of madmen roam the everchanging landscape and nightmarish creatures prowl the skies.
This is the realm of Nogth Ma'klurl'uth; for centuries he roamed the plane, growing big on the different madnesses encountered there. When a rift appeared in the sky, Nogth Ma'klurl'uth entered it to find new avenues of destruction—what it found was the Dar'Spelun Slugmarsh. The unique properties of the Slugmarsh and the madness seeping in through the rift from his home plane made it an ideal hunting ground for the madness slug, which has since spent centuries hunting in the subterranean swamps, going back to the demiplane of madness when prey is scarce in the Underworld bogs.
One of the first denizens of the Dar'Spelun Slugmarsh that Nogth Ma'klurl'uth came across was a drow witch named Hejkri. The dark elf didn't answer the impulse to run and was quickly swallowed whole by the madness slug, but did not die quickly. Instead she suffered for decades, her soul and mind torn apart by Nogth Ma'klurl'uth—since then the madness slug has assumed her form at times, insinuating herself into traveling parties, establishing a coven, and otherwise driving those that meet "her" into madness.
Nogth Ma'klurl'uth (drow witch 7); CR 11 (XP 12,800)
HP 80 (12d6+36); AC 23 (+4 Dex, +1 dodge, +8 natural)
Init +8; Speed 30 ft.; Atk dagger +7 (1d4+1)
Base Atk +6; CMB +7; CMD 21; SA hexes (cackle, coven, evil eye, misfortune); SQ cantrips, darkvision 120 ft., DR15/magic; Immune acid, cold, mind affecting effects, paralysis, sleep; SR 18
AL Chaotic Evil; SV Fort +7, Ref +10, Will +11; Str 12, Dex 18, Con 16, Int 18, Wis 12 Cha 18
Skills Knowledge (arcana) +19, Knowledge (planes) +19, Perception +16, Sense Motive +16, Spellcraft +19, Stealth +19, Swim +16; Feats Combat Casting, Dodge, Great Fortitude, Improved Initiative, Iron Will, Lightning Reflexes
Spell-LikeAbilities (CL 12th, concentration +16)
at will—glibness
Witch Spells Prepared (CL 7th; concentration +11)
4th—black tentacles, fear
3rd—deep slumber, dispel magic, seek thoughts
2nd—blindness/deafness, detect thoughts, hold person, touch of idiocy
1st—burning hands, chill touch, command, mage armor, ray of enfeeblement 
0th—bleed, detect magic, spark, touch of fatigue