Meta Thursday (Uralicans Uncut): Insanity and Psionics
One the biggest misconceptions within many roleplaying games revolves around insanity; this isn't to say that it should not have a place in RPGs, or implemented in one particular way, but that generally it is overzealous and harsh in the depiction of high mental states without showing the progression of the actual condition. One might argue that since these are within games, most conditions are mechanical and need to be triggered and resolved quickly. In those cases, kudos, but my concern is more of an aspect to a character's thoughts, feelings, and general well-being after the mec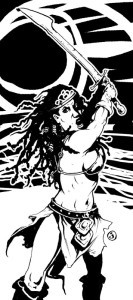 hanical effects are gone.
The after effects of conditions can amount to very little, or accrue into a bigger issue; it is up to the player, but as a GM I always think it is great to see the PCs grow not only with powers and abilities, but weaknesses and desperations as well. These characters are heroes, adventures, and masterminds from all walks of life. Not every single condition should deeply affect them, but after awhile every great person begins to crack. With that in mind, it may not always be a bad thing that a person gets a chill every time they come across their fears—one hero may shrug it off and rush off into a deadly trap to die a fool's death, while their compatriot's learned caution leads them to live another day.
What happens when psionics are mixed with insanity? There are myriad ways a psychic suffering from a mental condition could represent that aspect of their character while using their powers—the biggest thing that may happen is how the character's powers manifest when used under stress. When creating a weapon from the characters mind, it could have images of the wielder's greatest fear represented on the blade,
or the hilt itself could embody their personal terrors. For example, a wielder with arachnophobia might have a blade that has eight moving fringes which seem to scuttle across it as the weapon cuts through the air. One of the important considerations when evaluating mental afflictions and psionics is how it changes a PCs powers regardless of whether it is a short, high, intense burst of the condition or an arduous, ongoing battle within themselves that lacks any mechanical effects that the group is likely to notice at first.
Bearing all that in mind, remember that insane characters are not stereotypes, caricatures, or cartoons; they are people with feelings, consciences, and real struggles. Playing those struggles out is far more rewarding than trivializing them, and makes for far more dynamic encounters with not only the GM, but other PCs as well.
[Submitted by Tim Snow!]