Who feeds the AaWBlog? How do we keep such a hungry thing adequately nourished, nay, contained? There are plenty of people that contribute to the AaWBlog's continued growth and success!

Jonathan Ely is a British former soldier and currently a Health & Safety, Fire Safety and Environmental Specialist, forever searching for a way to defeat foolishness in the workplace. As a way to relax, he spends much of his precious off-time amusing his two kids, reading, and playing and designing significant quantities of Pathfinder and Shadowrun stuff.
Brian Wiborg Mønster hails from the land of the ice and snow, well with global warming, it is more like the land of mud and rain; Denmark. He is happily married, and has two sons who look forward to learning how to kill dragons; you never know when one might show up. When not thinking up devious traps and other ways to hurt characters, he floods AaWBlog with submissions, some good some bad, but all editable. He's currently starting up a new group so he can live out his evil compulsions on hapless characters. 
Rory Toma runs Trapaday.com. When he isn't thinking about the devious demise of characters, he can be found either working out or working on the Linux kernel.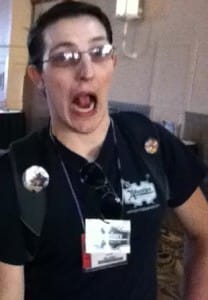 Mike Myler is a voracious writer, editor and game designer the likes of which the world has never seen (mostly because he's such a hermit). Mike is writing for or has written for AdventureAWeek.com, Fantasy Flight Games, Frog God Games, Louis Porter Jr. Design and more; if you like what you see, he's got a self-publishing imprint as well (which includes a free product). Whenever you see a post on the AaWBlog that isn't a trap and doesn't have a credited author, you can blame him.