Thank you for voting for us in the Best Blog category of the 2014 ENnies and helping us bring home the Silver!
My woefully unprepared speech at this year's ENnies does not at all do justice to you fine readers and everyone who voted for the AaWBlog this year! We are all extremely grateful for this prestigious recognition, and look forward to another year of providing some of the best RPG content on the net!
In honor of the captain of the ship, Jonathan G. Nelson, today we're going to do a little retrospective to give those interested some insight into how the AaWBlog! became an award-winning institution. If you're here for your weekly fiction or plot wrap-up, it'll just have to wait another seven days. 😀
There was a blog on AdventureAWeek.com before, "Critical Hit to the Blog" by Will Myers. While a nice place for some keen insight, it wasn't really the kind of spot you'd be checking every day for content (maybe once a month? I'm not sure it's been a while since I looked) and didn't hold as strong a readership as AdventureAWeek.com rightly deserves. Will is still in college, too, so his time for it was limited.
For my part, my first blog post anywhere was on May 4th, 2012. I know the day exactly not because I can look up the post (it was for a ribald humor site of my own making I have since disabled; the title had a bat of sorts, if you're clever and eager enough to find it), but because that was the day that Adam Yauch (MCA of the Beastie Boys) shuffled off the mortal coil.
I remember sitting in this same spot, aghast and unsure of the world. MCA and the Beastie Boys influenced a great deal of my life. I'd just watched the (AMAZING) Fight for your Right to Party (revisited) video for the umpteenth time the day before. How could this be real? Was it? What was going on?
To deal with it I started writing some funny, and vowed to keep on writing; with the brilliance of MCA gone, there'd be more than enough room in the creative space of the world for the likes of me. Over a few months (nearly a year, actually) I accrued a following, but ultimately walked away when I scored my first paid writing gig, deciding that burying the humor site's existence was the smart thing to do.
After getting into AdventureAWeek.com's writer pool with The Damned Souls of Fenleist (which sold out at GenCon, save for the copy I brought home! Must be the folding puzzle in the back…), I kept very close tabs on what was going on there as Rise of the Drow (which also sold quite a few copies last weekend!) came together. At one point or another, Jonathan put out a call for folks to write on the blog.
It seemed like he was unsure of exactly what he wanted, so I pitched a concise plan: magic items on Monday, traps on Tuesday, GM articles on Thursday, quests on Saturday, and monsters on Sunday (using mostly alliterative titles).
Jonathan was enthused.
Since Rory Toma was already doing TrapADay.com, it seemed right for him to guest-star on Tuesdays and he was interested in doing it. Then other contributors came along after a month or two – Jonathan Ely with his magic items, then Brian Monster with his penchant for haunts, leading to Weird Wednesdays.
This would be where things started to get a little out of control and somebody asked for an item to turn into a vampire.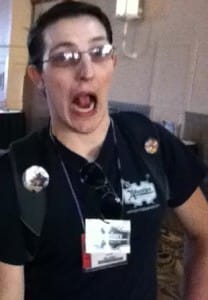 I suggested, "hey guys, let's write something every day, and then link them together", like it was the simplest thing in the world.  Thus began Cultus Sanguineus, and our practice of incredible content creation reached full tilt. Now we've got Mischievous Meadows, Maddening May, Tribal Troubles, Wonders of Naeracull (the first of what will soon be many AaWBlog Presents PDFs!), and now, Destiny Derailed.
It is madness. Utter madness. It is a fine accomplishment to be the ringmaster of this crazy circus, and I am privileged to be able to thank you all for making it an ENnie award winning blog. It is humbling to see something I pitched out a little more than a year ago reach such a high industry standard, and I am truly touched by it.
This is getting long-winded and wistful so now seems like a good time to bring it to a close. I hope you are all looking forward to this year as much as I am; I hear that a Paizo-published guy (hint: he has the same initials as me) is on board for this Timeaus place next month…