Magic Item Monday (Banlan Backlash!): Dimensional Wheel
DIMENSIONAL WHEEL
Aura strong conjuration; CL 13th
Slot —; Price 4,200 gp; Weight 50 lbs.
DESCRIPTION
This wagon wheel has a 5% chance of activating whenever it hits a pothole, divot, or any similar irregularity on a road. When activated. the wagon, its passengers, and its cargo are transported to a random plane (as plane shift). Each creature transported can resist with a successful DC 24 Will save; the wheel is a single charge item and cannot be used for further planar travel once expended.
CONSTRUCTION
Requirements Craft Wondrous Item, plane shift; Cost 2,100 gp
[Originally appearing as the planar wheel on TrapADay.com. -MM]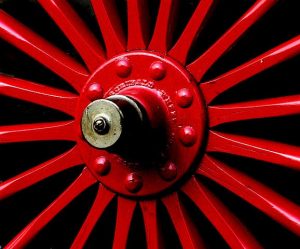 Borys has a final task for the PCs—after the pass was blasted and the alligotonium cloud descended upon Steamtown, PNE has more enchanted ore than they know what to do with, and it may be possessed by revenants (or worse). Too valuable to leave here in its raw state and too dangerous to try to fashion useful items out of, since it's rightly the property of PNE, they've decided to send it to a smelter in the city of Nyamo in far off Timeaus, a facility in good standing with the Samsara Mining Conglomerate. They have both the facilities and magical knowledge to deal with this ore safely.
Borys points at four full wagons of the ore. "These need to get to Nyamo, and I need you to guard them along the way. Some agents from SMC have just arrived and they'll travel with you as well. Once these safely reach Nyamo, you are to be given 100 pounds of the ore as a reward; once it is determined to be safe, of course."
Six agents (male LN human fighter 4/wizard 2) travel with the PCs, each carrying a hidden magic item that acts as a dimensional anchor. During the journey, they talk to the PCs to feel them out—the conversation eventually focuses on the authoritarian nature of Timerian rule and the different groups opposing it.

The party makes a series of Diplomacy checks during the course of the trip to try to befriend the agents, who start out with an Indifferent attitude toward the adventurers (the difficulty of each check is the base DC of the attitude +7.) On a failure of 5 or more, an agent's attitude drops by one step, and on a success, it increases by one step. These checks can be done once per day. After one week the agents spring a trap, but if the attitude of the agents towards the PCs is Helpful, they hand one member of the party a hand written note before springing the trap. [The note's contents to be revealed in an upcoming post! - RT ]
Each wagon has a single dimensional wheel and the hidden items carried by the subversive agents traveling with the PCs are enchanted to not only allow the alligotonium to teleport (which it normally cannot do), but to send it within 50 ft. to a specific location in Nyamo—the wheels simply have to hit a big enough pothole to activate. About a week in to the journey, the caravan reaches a road littered with potholes and instead of avoiding them, the drivers purposely head towards the pits and divots. Each of the 4 wagon wheels activates, triggering a DC 29 Will save to avoid being teleported, the specialized trinkets of the bandits facilitating the transition.