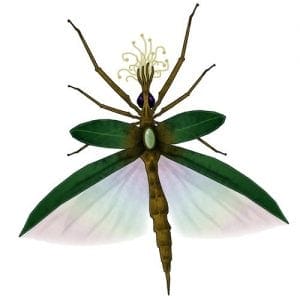 BIDDLYWINK     CR 4
XP 1,200
CN Diminutive fey
Init +9; Senses darkvision 120 ft., arcane sight, see invisibility; Perception+12
DEFENSE
AC 18, touch 18, flat-footed 14 (+4 Dex, +4 size)
hp 38 (7d6+14)
Fort +3, Ref +9, Will +8
Weakness silver, vermin qualities
OFFENSE
Speed fly 60 ft. (perfect) or 40 ft. (see text)
Melee force fronds +11 (1d8+3 force)
Ranged +11
Space 0 ft.; Reach 0 ft.
Special Attacks force fronds
Spell-Like Abilities (CL 7th; concentration +10)
     Constant—arcane sight, nondetection, see invisibility
     At will—glitterdust, mage hand
     5/day—dimension door
STATISTICS
Str 6, Dex 18, Con 12, Int 8, Wis 14, Cha 16
Base Atk +3; CMB -2; CMD 13
Feats Improved Initiative, Skill Focus (Sleight of Hand), Toughness, Weapon Finesse
Skills Escape Artist +14, Fly +15, Perception +12, Sense Motive +11, Sleight of Hand +17, Stealth +26, Survival +12; Size Modifiers Fly +6, Stealth +12
Languages Druidic
SQ Freeze, hide in plain sight


These odd creatures are easily hated as much as rust monsters and far more dangerous when left unattended near an enchanted treasure trove. Like an intelligent vermin, they eat away at magical items like termites before transforming into a plant-like creature that produces more biddlywinks. Entire dungeons have been overrun by hordes of the creatures and they are known to be used by druids attempting to cleanse a domain of an unwanted resident—dragons in particular dislike the little creatures, and many a warden of nature has fallen to draconic claws after attempting to seed the diminutive fey in the wrong treasure hoard.
[Today's excellent artwork is brought to us by Justin Andrew Mason!]