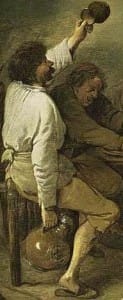 Awkward Hands     CR 7
XP 3,200
CN persistent haunt (40 ft. by 40 ft. copse of trees)
Caster Level 7th
Notice Perception DC 28 (to feel enveloped by slothful clumsiness)
hp 31; Trigger proximity (nearing the thief's impromptu grave); Reset 1 day
Effect     When this haunt is triggered, the spirit of an unlikely and poorly skilled thief passes on the curse that plagued him his entire life. Its ghost manifests subtly, washing over one creature per round and forcing them to make a DC 20 Will save. Failure on this save makes the target clumsy, suffering a -4 penalty to Dexterity; they also treat both their hands as off-hands (if they have two-weapon fighting, only one is treated this way) and must spend a standard action to pull anything from their pack for the next seven days. Every day upon waking, the haunted creature is given another Will save to resist the effects of the haunt but the magic persists every day until the week ends or the haunt is destroyed.
Destruction     The bones of the clumsy thief must be retrieved from under the dirt, a tricky proposition at best. Handling them properly requires DC 15 Dexterity checks and the remains must have three consecutive cat's grace cast upon them, and they bounce to avoid the magic (treat their effective touch AC as 15).
Adventure Hook     The wardens and scouts that travel through the region haven't yet detected the haunt, and only recently learned of its effects—several of their number died from the haunting clumsiness and it's been declared as a place to avoid until they have the resources to research that area of the territory. 
Do you have a chilling idea for a haunt or cursed item? Send it along to us at submit (at) adventureaweek.com, but please, bear the following in mind before you submit anything for review:
1. Anyone can submit an entry.
2. One entry per person at any one time. An entry must be your own work, not being published previously or considered by any other publisher, and it must original and not infringe upon copyrighted material.
3. All entries become property of Adventureaweek.com, LLP.
4. By submitting an entry you authorize the use of your name and likeness without additional compensation for promotion and advertising purposes in all media.
5. Adventureaweek.com, LLP reserves the right to withdraw or terminate this endeavor at any time without prior notice.
6. All decisions of Adventureaweek.com, LLP and their arbiters are final.
7. There is no compensation provided – any entries are given freely by their creators for use by Adventureaweek.com, LLP in perpetuity.
8. Your statblock must be properly formatted (compare to similar content on the AaWBlog for correct formatting).