Subscribers: Download
Purchase: PDF / Print / Fantasy Grounds
Maps
Audio
City Street
Adventure Background
Nearly two thousand years ago, in the land which now holds the Klavek Kingdom, a different power ruled the land. The Saatman Empire was a land unlike any seen before or since; it was a place where dragons ruled as gods, each in their own kingdom, keeping lesser races as cattle. And above all of these god kings stood and watched the Saatman.
As much a title as it was a name, Saatman is a line of blue dragons dating back at least three millennia. Yet even modern scholars have difficulty tracking their exact age and passing as each used the same, single name during their rule.
Yet, as any historian can tell you, even the most enduring legacies eventually ends. The humans so long crushed by the rule of the dragons rose up and overthrew their masters, slaying Saatman and countless other dragons in a bloody rebellion.
It was the first of many bloody uprisings that would eventually lay the groundwork for the Klavek empire, but not the last. In the generations that followed Saatman's fall, his most loyal servants strove to avenge him. Walking among humans as though they were one with them, they taught the tenets of the Empire to the people, and created the cult now known as the Serpens Sanguis - who still saw the dragons as kind and benevolent gods.
Over the generations, the Serpens Sanguis tried dozens, if not thousands of times to return the dragons to their 'rightful' ruling place. With each failed attempt, they fragmented. Some cells died off, others began to fixate on different powers or messages, but one group remained true to the cult's original tenets, placing a rightful Saatman on the throne once more.
Today, this group controls the city of Gustavin, built up around the last and largest of the former empire's ruins - the Saatman Throne. From here, the cult's current leader, Matthew Rasputin, cast a single wish whose effects would echo across the countryside: he resurrected the last Saatman.
In the years since, the reborn Saatman has flown from one corner of the former empire to the other, convincing, bribing and blackmailing dragons of all colors to his cause, seeking a reborn Saatman Empire. And slowly, his army grew.
In the past months, his surgically planned strikes have been thwarted time and again: a white dragon's storm petered out before it struck the capital (A16, Midwinter's Chill), a black dragon failed to disrupt trade along Klavek's eastern shores (A18, Storm's Wake), and even one of his most powerful allies, a red-dragon sorcerer, fell victim to his own pride (A19, Incandium's Eruption).
His so-called great plans are in tatters, but he still commands an army of dragons unlike any the world has seen since the days of the empire, and if he can do nothing to restore himself to power, the least he can do is end this human plague infesting the land.
Adventure Summary
The party arrives in Gustavin, a city built atop the ruins of the Saatman Throne - only to find the city long since under the dragon's sway. Yet, even with their god among them, there is dissent; many do not want to be part of the genocide their 'god' demands.
Once the party has staked their allegiances and their enemies, they descend into the throne. Inside, they navigate a maze filled with dragons before travelling by magic deeper still underground.
Now, surrounded by ancient treasures and magic lost for millennia, they face Saatman and his most stoic defenders with an army at their back. The only question is, where does that army's loyalty lie?
Adventure Hooks
After several recent dragon attacks have rocked the kingdom; Midwinter (A16), Storm (A18) and Incandium (A19), the party finally has a name; Saatman. The search has led to the heart of the kingdom, where the seemingly innocent Gustavin sits atop a famous and 'abandoned' ruin.
Dragons have been spotted across the Klavek Kingdom with alarming frequency - and more than once they have been seen high in the sky above Rybalka, circling for hours. A captured kobold messenger claims they are receiving orders from The Saatman Throne, a millennia-old ruin at the heart of the kingdom.
The village of Gustavin has grown up around the ancient ruin of one of the Saatman Empire's oldest surviving structures. Yet when the PCs stop here in their travels, they find that the empire thought long dead still lives strong, in secret, and will soon be attempting to reclaim its former holdings!
In its travels, the party meets a travelling wizard of an odd cult, the Serpens Sanguis. He invites the party to visit them in Gustavin, and speak with one of their leaders, Mikhas, for their potential initiation into the group.
Maps
GM Map
VTT/Player's Map
Chapter 1 - Infighting
hough it was hidden from maps for over a thousand years, the Saatman Throne was never truly lost. Watched over and stewarded across millennia by the Serpens Sanguis, its members now count the entire town that has grown up atop the landmark as their own, and hide from the world the complex beneath.
Yet, in a group as fractured as the Serpens Sanguis, there is no true unity within the town. It is divided into four major houses, each with their own insular motives and goals; House Mikhailov, House Ivanov, House Oblast, and finally the largest, House Rasputin.
The past several years have seen the four houses as united as they have ever been, with their god-emperor walking amongst them once more, but as his plans have grown more and more desperate, violent dissent has grown.
The Patriarchs of all three lesser houses now have doubts that this newly returned Saatman is as divine as he was before he fell - doubts that will soon lead to rebellion.
Arriving in Gustavin
Read the following to get started:
Gustavin is unusual even from first glance; two circular halves of the city joined together by the central, front gate and flanked on all sides by tall stone walls. It seems peaceful enough, with merchants peddling their wares inside the city gates, but you get the feeling someone, or everyone, is watching every move you make.
Although the city is generally in high spirits, the community is highly insular and small enough that outsiders such as the party are immediately singled out nearly anywhere they go. People will stop conversations as the party walks by, and shopkeepers will turn down signs demarking sales if the party enters their store. Such behavior is the normal treatment of outsiders in Gustavin, and will continue until the party makes an alliance with one or more of the houses, or announces its intent to slay Saatman aloud.
Denouncing Saatman
PCs who declare openly that they are here to slay a dragon will be met coldly – after all, the city worships dragons as gods, especially Saatman himself. Any open condemnation of or threat towards dragons of any sort will increase notoriety by 1, and if the party's notoriety is already 3 or higher, they may be met with violence in the streets as the very populace turns on them.
Several hours after the first such declaration, however, a messenger will invite the party to meet with Mikhas Mikhailov in his home, to discuss their claims.
The Four Families – Reputation and Notoriety
Control of Gustavin is divided between four houses, each controlled by a single family and in turn by that family's patriarch. Should the party be willing to deal with the potential dangers of accepting the feuding families into their ranks, they can earn some powerful allies.
Each house has its own motivations and goals - some of them less noble than others - and three of them can be persuaded to align their goals with the party, at least temporarily. To make such an alliance, each family offers a number of tasks the party can undertake, for which they will be rewarded with a bonus to reputation with members of that house. Parties can also garner reputation through bribes, gaining one point of reputation for each 500gp of value of bribe or gift given to that house.
This reward is tracked by a reputation score, tracked separately for all three houses. It is added as a flat bonus to all Bluff, Diplomacy and Intimidate checks made against any member of that house, though it is offset by a fourth score, notoriety.
Notoriety represents how dangerous the Serpens Sanguis sees the party, and applies as a penalty on all Bluff, and Diplomacy checks - but as a bonus to Intimidate - made within Gustavin or the Throne. It is impossible to decrease notoriety, and once it is five points above the reputation score for a particular house, members of that house will attack on sight.
House Rasputin
With more than 500 members, House Rasputin is the largest house within Gustavin, and fiercely loyal to both their patriarch Matthew Rasputin and his long-term goal of restoring the Saatman Empire by any means necessary. He is the first, after generations of failed schemes, to have a plan come even close to fruition.
Most of this loyalty is true, but what little dissent does blossom is quickly 'reprogrammed' away deep within one of the complexes many torture chambers. As such, none of House Rasputin has even the slightest doubt in their leader or their god.
Normally led by their house patriarch, Matthew Rasputin, the house's everyday operation is currently being handled by his eldest son, Ivan, while Matthew schemes with Saatman in the deepest chambers of the Throne. Ivan is no less ambitious than his father, and is feared if not respected by the entire town.
Should the PCs reveal directly to Ivan about their plan to deal with Saatman, he will politely turn them away and immediately message the other house fathers to warn them of the group, increasing their notoriety by 2. He will refuse to willingly meet with the party a second time.
If Ivan is killed, one of his four brothers will take his place. None of them hold the same political clout as their brother, but they are all similarly loyal to their father. If any of them are approached, they will have a similar reaction to their brother, but with less impact, only increasing the party's notoriety by 1.
House Mikhailov
Having been responsible for recruitment to the Serpens Sanguis for generations, House Mikhailov has the deepest understanding of the tenets of their faith, and so hold the deepest doubts about the resurrected Saatman's divinity. At nearly 350 members, they are also the second largest house in Gustavin.
Complicating the doubts of the members, the house patriarch Mikhas Mikhailov has long had his doubts in Matthew Rasputin's sanity. He respects the other man for returning Saatman to life, but the extreme violence that has followed has thrown his faith into doubt — he has always preferred persuasion to bloodshed.
Mikhas is a large man, though mostly in girth. He wears his white hair and beard short, and dresses opulently to remind new recruits how wealthy the Serpens Sanguis is.
When approached by the PCs, Mikhas is interested in talking; about religion, faith, and the role of the divine. He will muse that if a divine creature dies, it is no longer divine, and use the argument as a vehicle to invite the PCs to work with him and remove the no-longer divine Saatman and the mad Matthew Rasputin from power.
Securing an alliance with Mikhas increases reputation with house Mikhailov by 2 points. He will also offer the PCs his staff (masterwork quarterstaff) as a symbol of the alliance, which further increases reputation with house Mikhailov as long as it is carried openly, but reduces reputation with house Oblast by 2 at the same time.
Mikhas also asks the PCs, if they are interested in true positive change, to 'make Tambov Oblast disappear'. The other house patriarch knows many mistakes and secrets from Mikhas' past, enough to lead to his social destruction should they come to light. If the PCs do this, their reputation with House Mikhailov increases by 6, though their notoriety increases by 1.
If anything should happen to Mikhas, his eldest son Andras will assume control of the household. He is a smaller and less patient man than his father, and entirely under the sway of his wife, Lydia – who actually answers to her own father, Oleg Ivanov. Mikhas also has two other children, Ivana and Igor. Igor is only fourteen, and unwilling to take the position of house patriarch if offered to him, passing the position to one of his many cousins instead. In this case, the members of the house will be withdrawn from The Throne for discussion over the most qualified successor.
House Oblast
Numbering just over 250 members, House Oblast has been slowly shrinking over the last few generations, as the members tend to be bookish and withdrawn, watching over the Serpens Sanguis' secrets as they do. They are also responsible for the misdirection carried out on a day to day basis – including perpetuating the fraud that Gustavin is just a small town built atop an ancient ruin.
The house father, Tambov Oblast has always been thin and scholarly, even before becoming the house father nearly sixty years ago. Now, he is frail and bitter, as every one of his children and grandchildren have given their lives for the Serpens Sanguis in one manner or another. He holds the other house fathers personally responsible for his family's extermination – especially Mikhas Mikhailov, who he has been consistently blackmailing for years to fatten his coffers in cold revenge.
If approached, Tambov is willing to entertain the concept of overthrowing Saatman, mostly because the dragon favors house Rasputin so overwhelmingly. A DC 30 Diplomacy check will secure his alliance, granting a permanent 2 point reputation increase with house Oblast, and a 2 point decrease with house Mikhailov. He will write the PCs a letter of affirmation, which if shown grants a 4 point reputation bonus to house Oblast members, and a 1 point bonus to members of any other house.
If the PCs are already allied with house Mikhailov, Tambov will request that the PCs invite Andras Mikhailov join the expedition – and while within The Throne, ensure that he 'has an accident'. If the PCs do so, he will write them a second letter which provides double the original bonus when presented to members of house Oblast. However, if the deception is discovered, the party will suffer a penalty of 6 to their reputations with both House Mikhalov and House Ivanov.
Instead of a true heir, Tambov Oblast has been grooming his grandson-in-law, Andrei Kazakov, to take over when he is no longer able to continue his duties. Andrei, however, is under the sway of Oleg Ivanov's honeyed words, and has come to see the man as a surrogate father. Should Andrei be unable to take up his position as house father, the house will fracture to infighting. Any cultists within the throne will seek any leader they can, granting the PCs a +5 circumstance bonus on Diplomacy checks made to them.
House Ivanov
Barely numbering 200 members, House Ivanov is the smallest and least powerful of the houses, and own and run the more mundane facets of the town; managing the farmers, merchants and craftsmen.
Despite the House's rare dealings with cult activities, their patriarch, Oleg Ivanov schemes to one day control all holdings within the city, collapsing each of the houses into a holding of his own. His agents have firmly secured the allegiance of the next generation of House Mikhalov and House Oblast, and now he plots to see the heads of both houses dead, so as to take what he thinks is rightfully his.
Oleg Ivanov is ugly; although he possesses a broad nose, a patchy beard and yellow teeth, he doesn't care. Rather than using his time grooming himself, he plans exaggerated reactions to others reacting to him, to throw them off guard and give him the advantage.
If approached about an alliance, Oleg will make it appear that he isn't interested, although he sees this as an opportunity to engineer the deaths of all the other house leaders. He will agree, if the PCs attempt a second Diplomacy check (regardless of the result), granting a 4 point bonus to reputation with House Ivanov, and a 1 point reduction to House Mikhalov and House Oblast.
For his plan to work, ideally, he desires the PCs to petition the other house patriarchs in the effort to confront Saatman and Matthew, at which point he will also join the PCs himself. Before leaving the halls of the mighty, he and the other house patriarchs will separate briefly from the group outside of B10 - where he will lead the other house fathers into the trap that his house installed. If the PCs make the choice to pass down that hallway already, he will simply urge the house fathers forward to join the party, whereupon they will be fall into the trap as well.
If anything happens to Oleg, his house will fall to his eldest daughter, Natalya – despite being female. She has always hated the cult, and upon gaining control of the house, will move herself and her family away from Gustavin, and divide the remaining house evenly between house Rasputin and house Oblast. This grants a 4 point increase in reputation with house Oblast, and a 2 point decrease with house Mikhalov.
A.  Gustavin
There are several areas of interest within the city the party may visit, listed below.
A1. Inn: Dragon's Scales
The Dragon's Scales is a well kept establishment, just a few blocks inside the city. It is also the only inn in town, and sees little business.
It is owned by House Mikhailov, and run by a kindly old human couple, Katrina and Iskan. They prefer not to meddle in house business, but they are well connected and knowledgeable of the goings on in the city and more than willing to offer the PCs advice on the status of the city, so long as they are polite.
Every room and table has a scroll inviting the bearer to "Come and visit the Mikhalov estate to unlock your true potential, and discover enlightenment! Appointments available at any time, day or night."
A2. Market: The Hoard
The open market dominates the main street coming in from the city, and is flanked by craftsmen and tradehouses on the side streets and alleys. Many of the mundane items here are made from carved dragonscale, a plentiful commodity. This does not increase the price of the item, nor in most cases does it provide any benefit - though the items themselves are typically immune to the element the associated dragon was immune to.
Built of titanic logs, the Anaveka Ale House is one of the many holdings of House Oblast, though it is frequented by members of all houses and one of the busiest establishments in town. Run by The massive and slightly draconic Wieska Oblast (Female human commoner 6), who forbids any discrimination between houses or outsiders within her walls. Any Diplomacy, Bluff or Intimidate checks made here have a +2 circumstance bonus. During the day, there is a 30% chance Mikhas Mikhailov will be here, instead of at his manor.
A4. Landmark: The Lunar House
Built to resemble a crescent moon from above, this curved building serves as both an observatory, and for a popular meeting place for House Mikhailov and House Oblast. There is a 30% chance Tambov Oblast will be here, instead of at his manor.
A5. Landmark: The Sun Baths
A huge, hexagonal plaza is built around a circular public baths, in a way so as to appear from the sky as an iconic sun. Typically, few outside of House Ivanov visit the baths, though it is officially open to all. During the day, there is a 30% chance Oleg Ivanov will be here, instead of at his manor.
A6. Rasputin Manor
A dark and foreboding brick building, which seems like it hasn't been cleaned in decades. There are always at least four guards patrolling the small grounds, and four more inside. Ivan Rasputin is always located within.
A7. Mikhailov Manor
An open and inviting structure, with a fountain and benches just inside the gate, and well tended gardens flanking the main path. At any time during the day, at least two recruiters lounge in this open area, looking for outsiders who may have seen their advertisements. During the day, there is a 30% chance Mikhas will be at the Anaveka Ale House, but he will otherwise be found here.
A8. Ivanov Manor
This rich stone structure is three stories tall, and almost buried behind the garden of statuary within its short walls. The gates are always open, but the doors are typically locked, and watched by an attendant. During the day there is a 30% chance Oleg Ivanov will be at the Sun Baths, but will otherwise be here.
A9. Oblast Manor
Small and square compared to other buildings, Oblast manor has a manicured lawn and a short hedge, but no gate. Instead, a sign near the front declares, "No admittance – public library in east wing". Unlike the locked main house, the public library is open to all, and contains a well kept and well stocked basic library, and many books on Serpens Sanguis history and belief. At any time, there is a 30% chance Tambov Oblast will be at the Lunar House, but he will otherwise be here.
A10. Approach to the Throne (CR 16)
Unless the party has convinced one or more of the house fathers to adventure with them, the first time they approach the throne, located in the rear of the city, they will be stopped by a pair of elderly men, Ivask and Lovik; sentries posted by House Rasputin.
A pair of men, neither younger than fifty, stand in the middle of the path ahead. "Hail friends," the foremost man calls out, stepping directly into your path, "but I am afraid we cannot let you pass in good conscience."
The other man nods, and adds, "We have recently suffered an earthquake, and the entire complex is ready to collapse inwards. It is not safe for man or beast to venture too near."
Stealth, magic or a token or visit from one of the house fathers will allow the PCs past the pair with no further trouble – though if the pair catches the party while attempting to sneak past, they will attack.
If the PCs make it past the Ivask and Lovik without killing them, grant the party XP as if they had defeated them in combat.
Chapter 2 - The Ruined Throne
With their allegiances or enemies made, the time has come to explore what remains of the former empire's seat of power. The Serpens Sanguis has gone to great lengths to ensure that it appears abandoned even now, despite the hub of activity not far underground.
A11. The Outer Throne
The outer throne is an interconnected series of structures built thousands of years ago, and now crumbling from centuries of neglect. Yet, beneath the layer of overgrowth, the spaces between the shattered marble columns are carefully cleaned and cared for, and even the most ancient of mechanisms are oiled and polished.
The Throne once again is home to a Saatman, and though he lairs deep within the structure beneath this outer façade, it would be irresponsible to let the mighty structure degrade too far.
A11a. The Plaza
Small trees poke up between the titanic stones of the plaza, dwarfed by the now-dry fountain in its center. You can see in the distance the structure of the throne itself.
With the activity below, the plaza lies empty. PCs searching the fountain see the bottom is littered with ancient stone coins each a foot across. They bear the image of the Saatman Empire on both sides, and detailed etchings on their edges (which indicate in draconic their value in gold).
A11b. The Surface Throne
Cracked marble pillars support the roof of this tall, open building on either side of massive steps leading up to a dragon-sized throne. The whole building is overgrown with flowering vines and small foliage, though the effect is more tranquil than forgotten.
Though worn by the elements, the building is still structurally sound – which is important, because the throne itself conceals the lock to the halls below.
A11c. The Secret Stair
Beneath the Surface Throne lies a stairwell, the door to which blends seamlessly into the structure below. Less secret is the trail leading up to an apparently blank wall. Normally, it is controlled by the mechanisms in A11b. The stairwell leads to B1.
A11d. The Upper Gardens
Whatever structure sat atop this two-story construction has been lost to the ages, replaced now by neat rows of carefully tended plants.
The garden here holds several plants other than common herbs, cleverly hidden amongst their more mundane counterparts.
A11e. The Lower Gardens (CR 16)
This sprawling and overgrown affair once boasted hundreds of even rows alternating soil and marble tile. Now, it is little more than a thin forest, with paving stones askew amid the underbrush.
The lower gardens have not actively been used by the Serpens Sanguis for nearly a century, and now the growth is so bad that the adjacent city wall has begun to crumble, creating an alternate entrance to the city.
Just outside the city walls has become a favorite spot for several members of House Rasputin to come and complain about Matthew's latest plans – far from prying ears. They are actively keeping watch for anyone attempting to spy on their dissent, with a Perception/Spot/Listen of 26. They will attack anyone they do not recognize on sight, attempting to hide their traitorous ways.
A11f. The Gallows
This much smaller plaza holds a human-sized guillotine, long-since rusted to uselessness.
Though it saw a great deal of use back at the height of the empire, the gallows hasn't been used since the fall of Saatman long ago.
A11g. The Seat of Heresy
Etched into the ground in blue crystal is the outline of a dragon, each facet covered in countless runes. Overlooking the area is a pillar of the same material, thrumming slightly.
Though intimidating, the outline in the ground is nothing more than an indicator of where prisoners were to be kept for execution – the real danger here is the crystal pillar, known as the heresy blade.
A minor artifact in its own right, the blade has only one power, to utterly destroy creatures brought before it. Any helpless creature within 100 ft of the heresy blade must make a DC 25 Will save each round or be struck by a focused blast of energy from the tip of the stone, killing them instantly.
Creatures killed this way crumble to dust, and their souls are permanently destroyed, beyond the grasp of anything shy of divine intervention.
Creatures without souls, such as undead or most outsiders are immune to this effect.
B.  The Halls of the Mighty
The Halls of the Mighty have long been where the royal court of Saatman has resided. These hallowed halls have remained mostly abandoned since the fall of Saatman, seeing only occasional use by the Serpens Sanguis maintaining the ancient catacombs.
When Saatman was returned to life a few years ago, his first order was tracking down his allies – or their descendants. The most powerful of the whom he set into motion immediately – like Midwinter and Storm. Those he didn't need immediately, he began to invite back here, to prepare and train for the upcoming war against humanity.
When the PCs arrive, these passages are teeming with dragons, and half-dragon spawn who have collectively become known as 'heroes', as an antithesis to the human champions who destroyed the empire the first time. It is certainly possible for the party to simply push forward, inwards and downwards towards Saatman, but doing so will require fighting many dragons, half-dragons, and members of the Serpens Sanguis – none of which is popular amongst the houses the party may have allied with.
To keep their alliances intact, the party will have to navigate the hallways carefully, choosing less trod paths and avoiding combat wherever possible. The safest route through the passages is noted on the map in red.
The Walls of the Mighty
The throne was designed not just as a temple, but as a fortress intended to withstand siege. Even the thinnest stone wall is five feet thick - the outer foot on either side being polished marble, while inside rests a specially treated mixture of iron, lead and gravel that blocks scrying, and buries any creature attempting to pass magically through as if they were caught in a landslide.
Creatures attempting to damage the wall find it has 10 hardness and 75 hp, and once broken it fills all adjacent spaces with 3 ft of gravel by the end of the round, doing 5d6 points of bludgeoning damage to any creature caught in the effect. Creatures attempting to pass through the wall by means such as stone glide can make a DC 25 Reflex save to avoid stumbling into the gravelly interior.
Reputation within the Throne
Unless otherwise noted within a particular section, the following actions will have an effect on the party's reputation:
For each full-blooded dragon slain by the party, notoriety increases by 2.
For each three half-dragons slain by the party, notoriety increases by 1.
For each two members of a particular house slain, reputation within that house decreases by 1.
For each ten Serpens Sanguis members the party kills, notoriety increases by 1.
Further, after any reputation decrease with an allied house the party will be approached by that house's patriarch, warning the party to remember their current goals. Each time this occurs, the PCs must make a DC 25 Diplomacy check or have that house withdraw their support making recruiting further cultists of that house impossible.
Travelling with the Patriarchs
Several of the quests above require the party to recruit the patriarch a family to enter the throne with them. This requires an alliance to have been already formed, and a DC 35 Diplomacy check for the patriarch to agree.
The patriarchs will not participate in battles nor have any significant effect on an area unless otherwise noted, but so long as the house patriarch is with the party, PCs gain a 4 point bonus to reputation with that house. Should a patriarch die in their care, notoriety will increase by 3, and reputation with that house will decrease by 2.
Disguises
Though the house fathers will not think of it, the party disguising themselves as members of the Serpens Sanguis is one of many possible routes of entry through the Halls of the Mighty. Using actual Serpens Sanguis robes and talismans (which can be provided by any of the three houses) grants a +8 circumstance bonus to the check.
Magical Solutions
PCs capable of teleportation will find this to be the fastest route to the throne, though not even the house fathers can say for certain where Saatman's throne physically is. They will also warn that Saatman knows the spell redirect teleport, which if active would make magical transport impossible. (This spell is not actually in effect, but the cultists believe that it is)
This can, of course, be solved by means of spells such as discern location, though the party will of course have to pass Saatman's spell resistance to scry on him.
Recruiting Cultists
Most of the cultists in this adventure can be recruited by the party into the effort to overthrow Saatman. When they have been, they will follow the PCs a short distance behind – or meet the PCs deeper in the complex. As they are already expected to be within the complex, they will have no trouble moving about the complex, even in large numbers.
Unless noted in their entry, recruiting a Mikhailov cultist requires a DC 33 Diplomacy check, recruiting an Oblast cultist requires a DC 37 Diplomacy check, and recruiting an Ivanov cultist requires a DC 35 Diplomacy check. House Rasputin cultists cannot be recruited without magic.
Halls of the Mighty Patrols
While there aren't any actual guards within the Halls of the Mighty they remain a hub of activity within the throne. If the party stands still for too long (two or more minutes in any one location), they will be come across by one of many groups moving about within the complex. In addition, there is a cumulative 10% chance per round of open combat that a patrol will come to investigate the noise. Once a patrol has located the PCs, there will not be another patrol for at least ten minutes.
Each time a patrol discovers the party, roll 1d20.
1-12: 3 Serpens Sangus cultists moving about the complex on an errand. Roll 1d4 to determine their house allegiance.
13-19: 2 mighty half-dragon heroes strolling the halls, deep in a conversation about the glory of their past battles. They will attack intruders on sight. There are only four groups of heroes in the complex, if this is rolled after all four groups have been encountered, the encounter is cultists instead.
20: Two adult green dragons (3.5e) or a lone old green dragon (Pathfinder) pacing the halls looking to spy on one of the other groups in the complex. Each time this encounter occurs, there is one fewer dragon in B4. If this encounter is rolled when there are no dragons in B4, the encounter is cultists instead.
B1. Atrium (CR 16)
The marble steps descend deep underground, opening eventually into an octagonal atrium well over a hundred feet across, and reaching nearly as high. Gold must have once lined every wall, as it glitters irregularly from vaulted ceiling, and many of the room's elaborate arches.
Ahead of you, a dragon-sized hallway looms, dwarfing even the twenty-foot wide side passages.
Four Serpens Sanguis members are within the chamber, cleaning a bloodstain off the marble floor as punishment for the former fifth member of their group making an inappropriate remark to one of their 'gods'.
B2. Wings (CR 18)
An arch yawns open on either side of the passage to reveal an identical rooms on each side, built to human scale.
These chambers have been renovated to provide quiet spaces for some of the more scholarly half-dragon heroes. They make regular use of the space, studying magic and tactics alike while being waited on by personal assistants from the cult.
B3. Collapsed Passage
The ceiling of this passage has collapsed in on itself.
This passage collapsed decades ago, and while the smaller rubble has been cleared, it remains impassible for most creatures.
Clearing the passage requires eighty hours of effort, which can be divided between party members. Each casting of a spell such as stone shape provides five hours of effort.
B4. Green Dragon Chamber (CR 17)
This large open room is unmistakably sized for dragons. A table seven feet high fills the center of the room, and the ground is covered in deep scratches.
This room serves as the home for four (3.5e) or two (pathfinder) gossipy green dragons who enjoy spying on and criticizing the empire's affairs. There may be fewer dragons here if they are encountered elsewhere in the complex instead. While here, they remain alert, in case any other dragons may instead by spying on them while they wait for their meal to be delivered.
B5. Kitchen (CR 18)
A pair of whole oxen are slowly roasting on a massive spit in the center of the room. Waiting nearby are a stack of polished steel trays more than five feet long.
The cooking fires here are magically maintained and cleaned, producing heat and light, but no smoke or debris.
There are ten cultists working in the kitchen: six members of house Ivanov, three of house Oblast, and one member of house Rasputin.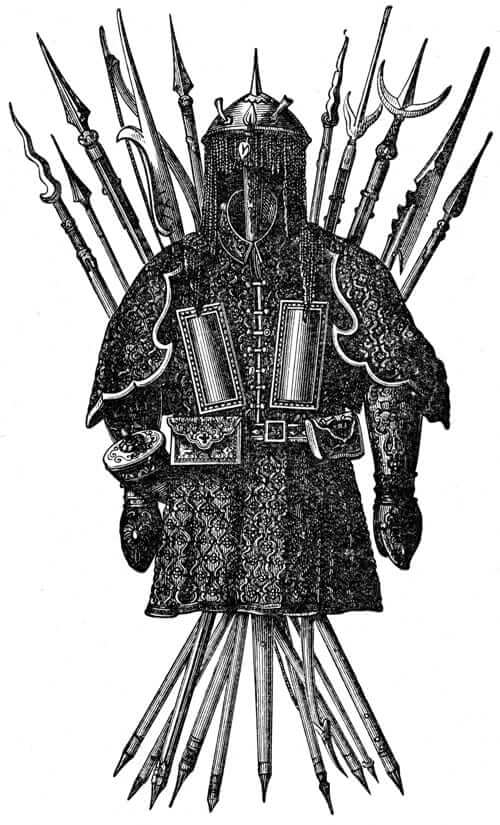 B6. Hero Chamber (CR 16)
A single, heavy bed fills each corner of this chamber, and a similarly heavy stone table dominates the center. The edges of the room are decorated by items of a more personal nature: trophies, banners and display weapons.
Each of these rooms houses four half-dragon heroes, though at any time during the day there are rarely more than two present, the others attending duties elsewhere or competing in the arena. There are approximately twenty heroes in the entire complex.
B7. Mundane Chamber
These chambers serve mundane uses within The Throne, either as storage for basic supplies, or as washrooms. Nothing of value exists within any of these rooms.
B8. Quiet Wings (CR 14)
An arch yawns open on either side of the passage to reveal an identical rooms on each side, built to human scale.
While most of the wing chambers are common spaces, this one has been 'claimed' by the unpleasant half-dragon hero, Wroth, for his continually failing attempts to learn magic. He will immediately attack anyone interrupting him, but is making an effort to ignore any noise from the main passage.
B9. Brunty's Chamber (CR 17)
Brunty, a stout red dragon, pretends to sleep in this chamber, contemplating how best to impress Saatman so as to get the most choice territory after the invasion.
If any house patriarch is with the party, they will warn them to stay away from this room, as Brunty has explicitly said he will devour anyone disturbing him.
Brunty is actively watching both the doors to this chamber, making it impossible to even open the doors without alerting him. Upon opening the door, read the following before Brunty attacks.
The huge, red dragon within the room instantly turns his head to the open door. "You humans are useless. I specifically said to stay out." He growls, then licks his lips, "But then, I have been getting peckish…"
B10. Trap! (CR 16)
The corridor here widens into an atrium-like chamber.
These atriums have been recently expanded to allow for Herthrix's 'acid purges', which he insists are there only to prevent him, or anyone else, from getting sick. They also have a pleasant side effect of preventing unwanted visitors.
B11. Herthix's Chambers (CR 15)
Inside the chamber, a coiled dragon slumbers. His midnight black scales no longer quite fit his form – which is lumpy and irregular in places, as though the entire dragon was covered in terrible scars.
Scarred by a magical disease at young age, Herthix is deformed and has become paranoid of even the smallest illness. Saatman has appeased him by having the acidic purges constructed on all three routes leading into his lair. Now protected from his fears, Herthix has fallen into a deep sleep.
B12. Coliseum
This titanic room has a ceiling at least a hundred feet high, and a floor of blood-packed dirt. On one side, a balcony dominates the room, while along the other statues of chromatic dragons look down onto the field.
Built for blood sport, the coliseum sees perpetual use now as the half-dragon heroes constantly compete in challenges of bravery and steel against one another.
At any time the PCs arrive, there is a 10% chance there is an ongoing match here, between two heroes from the dressing room (B12b). These matches typically last for three minutes, after which the heroes retire to the dressing rooms once more. If confronted, the heroes in the audience (B12a) will cheer them on, only joining the battle after the first two are defeated.
While no match is ongoing, the coliseum floor is entirely ignored.
Combat in the coliseum will never draw the attention of patrols.
B12a. Coliseum Audience (CR 18)
Though several chairs on this sweeping balcony overlook the arena, more of them have been pulled aside to a number of tables, on which lay half-eaten decadent meals and a variety of tactical and war games.
During the day, competitions are watched and cheered on by other heroes, for entertainment as well as to assess one another's capabilities.
B12b. Coliseum Dressing Rooms (CR 17)
Scattered outfits, bloody bandages and discarded weapons lay everywhere in this dark room, which smells of blood and sweat.
Though lit by the same magic as elsewhere, this room is covered with grime and sweat, reducing the light within to dim instead of normal.
The long room is divided into smaller areas by chest-high wooden barriers, allowing the half-dragons some small level of privacy as they train or change for their matches.
B13. Pyallisk's Atrium
The lights in this tall chamber flicker unpredictably. On the wall are a series of unholy runes, drawn in blood.
With Incandium's death, his position as Saatman's chief magical advisor has fallen to the far less brilliant dragon, Pyallisk. During the day, his chamber is unoccupied, as he spends most of his time doing paperwork in D5.
The runes are ominous, but harmless and nonmagical.
B14. Serpens Chamber (CR 0, 19 or 20)
Cots and desks fill the room haphazardly, all of them covered in discarded papers and clothing.
Unlike the rest of the compound, the walls and floors here are rough and unpolished, demarking that it is used by the non-divine humans that make up the Serpens Sanguis.
Rarely are fewer than ten cultists using this room – either to sleep or simply as a place to keep their personal effects while elsewhere in the complex.
If the party's notoriety is below 5, there are 9 serpens cultists lounging within; three of each house Mikhailov, Oblast and Ivanov. They are relaxing and not alert.
If the party's notoriety is between 5 and 10, there will be 12 cultists here; three from each house. They will be on high alert, and attack on sight.
If the party's notoriety is 10 or above, there will be no cultists here, all having been called elsewhere in the complex.
B15. Son of Saatman (CR 4 or CR 16)
The walls of this opulent chamber are gilded with gold, and the ground is covered in furs and artistically rendered child's toys. A small – yet decadent – bed takes up one corner of the room, atop which a bright blue child plays.
This room is for Saatman's only son, the half-dragon prodigy, Asaval. He is a prodigy, even amongst half-dragons, and is nearly as developed as a seven year old human – but he is still an infant only two years old. His six attendants are members of house Rasputin, but unlike other members they are no more than caretakers (commoner 3).
If the party threatens or harms them or the child at all, they will wait until the party leaves before alerting everyone in the complex, including Saatman himself, increasing the party's notoriety by 3.
If Saatman's son is slain, treat him as a full-blooded dragon for contributing to notoriety.
If the party's notoriety is above 5, Asaval is also being guarded by two half-dragons.
B16. Door to the Seat of Power
The walls of this chamber are lined with iron, and lit by a pair of glowing waterfalls cascading on either side of massive draconic face – large enough itself to swallow a dragon.
This is, of course, because the only way through to the Pool of Radiance is to be swallowed by this massive 'door', which itself is actually an intelligent magic item. When approached, read the following aloud.
Once you pass through the threshold of the room, the titanic face animates, looking down it's snout at you. It demands "show fealty to the dragons; kneel and place your head in my jaws and you will be judged".
Despite its razor sharp jaws and threatening demeanor, the statue cannot actually kill anyone. It only requires one be willing to put their life in the hands of the dragons – once it closes its jaws, it casts teleport without error on them, transporting them to C1, in a prostate position.
If the party's notoriety is 10 or higher, however, the door is redirected to teleport directly to the throne room, at D2.
Any Serpens Sanguis present at this time can reveal the teleportation effect – though they all fully believe the statue would kill any creature without faith.
C.    The Pool of Radiance
The Pool of Radiance is a natural font of magical energy, long since controlled and hidden by the Saatman Empire. With the magical power drawn from this 'natural' source of energy, the dragons were able to reach powers far beyond their natural capacities. Unfortunately, long term exposure to the powers of the pool is dangerous, and many of the cultists here are quite mad as a result.
Surrounding the pool itself are many satellite chambers, libraries and workshops for the magical workings of the empire and the Serpens Sanguis. The structure itself has suffered over the centuries - its caretakers as often mad as not - and several of the surrounding passageways and chambers have collapsed.
Dangerous Chambers
A number of the chambers in this section of the complex are structurally unsound. In any area marked as unstable the walls and ceiling only have a hardness of 8, and a collective 20 hp. If the structure is reduced to 0 hp, the ceiling of the chamber will collapse inward, as a cave-in (Pathfinder Core Rule Book).
Unless otherwise noted, a collapsed chamber has no effect on other areas of the dungeon. However, for each collapsed chamber - even if it was accidental - the party's notoriety increases by 1.
Pool of Radiance Patrols
Like the Halls of the Mighty, the Pool of Radiance is not guarded directly – but is still a busy place. For every three minutes spent in one place (30 rounds) the party will be intercepted by a patrol. There is also a cumlulative 15% per round of combat of someone coming to investigate. Roll 1d20 to determine who.
1-14: Three House Oblast cultists, carrying armloads of bureaucratic paperwork. They will immediately attempt to retreat - increasing notoriety by 1 if they do. A DC 35 Diplomacy check can convince them to forget they saw the party, but they will not join them.
15-19: Two mad House Rasputin cultists and a Serpens, chuckling as they move from one experiment to the next. They will attack anyone they do not recognize on sight.
20: A disguised Absidee (from C4), out returning a misfiled book. If Absidee has already been defeated, treat this as Oblast cultists.
C1. Radiant Pool (CR 17)
This titanic room is not lit from above or from the walls, but from the large pool in the center, radiating with a soft, warm light.
The room itself seems to have suffered significant damage over the years - the domed roof almost a hundred feet above is dominated by a huge crack in the stone - despite the magically starlit sky that still dances across the stone surface – and one of the four passageways leading outward has collapsed entirely.
At the midpoint between each passage is a twenty foot tall golden statue of a half-dragon wizard, reaching his arms to the sky.
The golden statues are neither golden, nor statues – but Iron Golems affected with permanent silent images. They remain still unless a non-dragon attempts to touch the surface of the pool, in which case they attack.
Creatures that fall or jump into the pool are considered each round to have imbibed a dose of radiant elixir, of which the pool is full.
In front of the southern exit to the room is a runic circle. Any creature standing still within for as little as a single round will be teleported back to B16.
C2. Mundane Chamber
These chambers are divided into a number of smaller rooms, each one containing a small storage room for parchment and ink, a washroom, and two (empty) bedrooms.
There is a 50% chance a particular mundane chamber is unstable.
C3. Collapsed Area
The passageway here has entirely collapsed in on itself – the wall of dirt and stone seems to have settled long ago.
These areas collapsed hundreds of years ago – passing through them requires mining an entirely new passage.
C4. Catalogues (CR 17)
Carefully stacked cards span every wall of this room, from the floor to the ceiling nearly twenty feet above. A wheeled cart containing several ancient looking books sits abandoned in the middle of the chamber, between three carefully arranged, but empty, tables.
The only chamber in the pool of radiance to have been maintained over the centuries is the catalogues, under the watchful eye of its librarian, Absidee. As such, it and its magic remain in pristine condition; the catalogue shelves will rearrange themselves so that any item being searched for will be on the shelves within arm's reach.
PCs using the catalogues can be redirected to a book on any subject within the library, which grants a +8 circumstance bonus on any Knowledge check, once the PC locates it among the many carefully filed books.
Absidee appears to be a young, pretty and scholarly human woman, dressed in a tight jacket and short skirt, half-moon spectacles and wearing her dark hair cut short. However, she is actually older than the library itself – and has been watching over it patiently for its thousands of years. She is a marilith, disguised as a human for the benefit of the Serpens Sanguis cultists, many of whom she knows very intimately.
She will act friendly towards the PCs at first, but if she sees through their disguise or their notoriety is 5 or higher, she will flirt with one member of the party and suggest that she has Saatman's old biography that could help them, and lead them away from the party.
Once she is 50 ft away from the others, she will turn to the PC, embrace them and return to her natural form – a huge devilish serpent, with six swords that appear to be long strips of jagged papyrus, as hard as steel. One of these is more than a simple magic sword, and is a powerful scrollblade.
C5. Biographies
A line divides these massive bookshelves like they were two separate rooms – one holding of thousands of ancient tomes, the other hundreds of fresh-bound editions.
The biography section is divided into two parts, the older one being journals and monologues of dragons who had been part of the empire thousands of years ago; and the maintained one being their lineages, up to present day.
These lineages have been recorded faithfully, watching each dragon and every dragon-blooded descendant of theirs through magic, and tracking their location.
C6. Geography
A massive globe once sat here, though it has broken free of its stand, rolled into a corner and cracked. Around it, the bookshelves have cracked, spilling their books into piles on the floor.
The books detail different areas within the Klavek Kingdom as they were two thousand years ago. They are not particularly valuable.
This room is unstable.
C7. Magical Studies (CR 17)
This chamber crackles with magical energy, and seems to be well used – though the books are ancient, all of the furniture has been recently replaced, including a gold inlaid circular table in the center of the room.
The books here go into great detail on all facets of magical study, though most numerous among them are books on transmutation and necromancy – those that turn things into what they are not.
Day or night, Serpens Sanguis cultists use this room as a laboratory to study, craft magic items or to create warped creatures, like the Serpens. When the PCs arrive, pages detailing the creation of one of these creatures will be spead across three tables.
C8. Arcantrix (CR 18)
Crisscrossing, golden beams support the cracked ceiling of this room. Along the ground beneath them are huge glass orbs holding half-dragon monstrosities.
Likely the worst of the experiments performed by the Serpens Sanguis are those attempting to turn living creatures into dragons, which occurs here. Rarely is anything useful created, however, most of the creatures here simply suffer terribly before being killed. Currently, there are eight mutated creatures within the orbs, and six empty ones.
As a result of the constant suffering and death, the room is suffused with necromantic energy. Any creature that dies within this room (or any of the creatures released from its prison) is reanimated as a zombie after two rounds. If the body is utterly destroyed, it reanimates as a shadow instead, until killed outside the walls of the chamber.
This room is unstable
C9. Biology (CR 16)
On the walls between the bookshelves in this chamber are large, detailed drawings of dissected humanoids.
This room contains tomes on the detailed inner workings of hundreds of creatures – including vivid descriptions and details of how they die.
Having been recently rebuilt after collapsing, the cultists use the information here work to create magical weapons for the upcoming assault. However, they have been drinking deeply from the pool of radiance – and are long since insane as a result. They will attack anyone that interrupts their work.
This room is unstable
C10. Sciences
Utterly abandoned, this large library room is covered with a thick layer of dust.
The books in this chamber discuss everything from engineering and physics to philosophy. However, none of the books here have been used or cared for in over a thousand years. They will all crumble to the touch, beyond the restoration of all but the most powerful magic.
C11. Reprogramming Lab
Several comfortable chairs around the exterior of the room face towards a table in the center, with restraints for hands and feet, and a neat table of silver tools to the side.
Occasionally used for small scale experiments on the part of the Serpens Sanguis, these rooms are primarily used to reprogram any member of the cult that may be going astray. Currently, none of these rooms are in use, but torture instruments lay prepared in neat lines and ready for use at any time.
C12. Incandium's lab
Bizarre magical paraphernalia lie in heaps in the corners of this room, while the center is clean and ordered – at the center of the desk in the middle lies a single page.
Until recently, this was Incandium's laboratory for magical experimentation here in The Throne. With his recent death, it has been handed down to the less magically talented Pyallisk. Pyallisk, unable to understand the majority of the half-dragon's work, has destroyed near everything that may have been of value, but for a single spell the other dragon had already completed.
Chapter 3 - Seat of Power
Finally, deep underground the party arrives at the seat of the empire's power. The means to end the scourge of dragons is at hand – there is only to put an end to the god-emperor of dragons, or die trying.
D.  The Throne Halls
The deepest part of The Throne, the Throne Halls are exclusively for Saatman's own private use. Until recently, none had been in these halls – but Saatman has taken again to the throne, and sits within, planning his great war.
D1. Audience Hall
This grand hall gleams with gold from every surface; high arches separate the atrium into segments, each one featuring a dragon emperor of the past. At the far end are a massive set of golden doors emblazoned with the symbol of the Serpens Sanguis cult.
Though impressive, the walls, ceiling and statues aren't solid gold, only gold plated – and midas gold at that (see D4b). Stripping a 5ft wide section of wall or a statue takes ten minutes, and produces 10 lbs of impure gold sheeting, worth 100gp. There are 108 wall spaces, plus four statues.
Any cultists the party may have recruited by this point will be waiting here, ready to support the PCs in their battle against the no-longer-divine Saatman in any way the PCs request.
D2. Throne Room (CR 19+)
This large chamber is the true seat of the Saatman Empire, though few have ever been here without directly being invited by the god-emperor himself.
The state of the chamber might be very different depending on the impact the party has had on their way through The Throne.
If the party's notoriety is less than 5, Saatman will not have been alerted to the party's presence within the complex. He will be sitting atop his throne with Matthew at his side, standing over a large map of Mohkba and the surrounding areas.
When the party enters the room, read the following:
The doors yawn open into a palatial chamber, through which massive stairs steadily climb towards a titanic marble throne. Atop the throne is a dragon draped in gold and jewels, his scales a blue so dark as to almost be black.
At his side stands a human man who looks nearly as ancient, dressed in fine silks with the emblem of the Serpens Sanguis proudly on his chest.
The pair are examining something on the ground between them, "If so, we should have the second wing strike here…" the human points to the ground, before hesitantly looking up.
Saatman and Matthew will banter with the party, accusing them of being 'heroes who would topple an empire', but the pair are only looking to examine the party for any obvious weaknesses before striking.
If the party's notoriety is 5 or higher, but less than 10, Saatman will have been alerted to the party's presence. He will have summoned the vault protectors (from D4a) to stand in positions flanking the main door to the chamber, and he and Matthew will be preparing for the arrival of the heroes.
When the party enters the room, read the following:
The doors yawn open into a palatial chamber, through which massive stairs steadily climb towards a titanic marble throne. Atop the throne is a dragon draped in gold and jewels, his scales a blue so dark as to almost be black.
In front of him paces a human man who looks nearly as ancient, dressed in fine silks with the emblem of the Serpens Sanguis proudly on his chest and a deep scowl on his face.
As he paces, he is talking wildly and gesturing, "It's the mercenaries who killed Incandium, they must be, if they're h--"
"They are here" The dragon interrupts, looking down the stairs towards the door, "but this time, you humans will not get the best of me." Already, he pounces.
Saatman and the guardians will attack immediately. Matthew, however, will be startled on the first round and be flat-footed until the beginning of the second round.
If the party's notoriety is 10 or higher, Saatman will have summoned both his golems (from D4a) as well as Pyallisk (from D5). They will be sitting anxiously, waiting for an attack at any moment.
When the party enters the room, read the following:
The doors yawn open into a palatial chamber, through which massive stairs steadily climb towards a titanic marble throne. Atop the throne is a dragon draped in gold and jewels, his scales a blue so dark as to almost be black.
Beside him is a much smaller dragon, his scales a brilliant red-orange. He is coiled tightly, as if ready to strike at any moment.
In front of the two dragons paces a human man his fine silk robes and long beard trailing behind him and a deep scowl on his face.
The instant you cross the threshold of the room, all three sets of eyes turn to you. "That's them." The red dragon says, his voice deep and gravelly. "They're the ones running amok."
Saatman will attempt to lure the party into the room before attacking, waiting for them to step between the iron golems before striking the entire group with fireball, signaling the others to attack.
D3. Harem (CR 18)
The room is dimly lit, and heavy with the smell of incense – and burnt meat. All around, you can see the shapes of slumbering dragons.
This chamber is Saatman's harem and bedroom, and the sleeping figures are his mates. When Saatman isn't present, they spend the majority of their time asleep, and they will be doing just that when the PCs arrive.
D4. The Vaults
The vaults of the Saatman Empire contain the wealth of generations of dragon god-emperors, too greedy and drunk on their own power to pay for anything. The reborn Saatman  has different priorities however, and has spent liberally from these vaults so as to bribe other dragons to his cause.
D4a. The Vault Protectors (CR 16)
Unlike the rest of the complex, the walls of this pentagonal chamber are mirror-smooth grey stone, and the air is chilled, almost bitingly cold.
If the PC's notoriety is below 5, the vault's guardians - three iron golems in the shape of blue dragons – will immediately attack any creature other than Saatman who enters the room. If the PCs notoriety is above 5, the guardians will be in D2 instead.
D4b. The Vault of Midas
Sitting alone in this vault is a large, golden statue of a dragon, standing on its hind legs, palms outstretched and raining a cascade of miniature golden coins upon its feet. A golden statue of a Serpens Sanguis cultist stands before it, missing both extended hands at the wrist.
One of the keys to the Saatman's power was his seemingly limitless wealth, much of which was created through the golden statue here, which radiates overwhelming transmutation magic. It can turn anything into gold at a mere touch, up to 500 lbs per day. The gold isn't pure, but it is still gold – and will affect living things as well as anything else. This impure gold is worth only 10 gp per pound.
Any character touching the statue, even with another object, must make a DC 26 Fortitude save or instantly be transformed to gold, along with all of their equipment. Thrown objects receive no save. This effect is permanent and can only be undone by wish, miracle or other powerful magic.
The Midas Statue itself is 5 ft tall and if destroyed by magic (which is the only way to touch it safely) is made of 500 lbs of pure, soft gold (worth 25,000gp).
The statue of the Serpens Sanguis cultist had been directed to use the statue, but didn't release the object early enough. He is worth 1,000 gp in raw gold, or 3,000 gp as a statue.
D4c. Treasure Vault
Large stone chests are stacked in ascending rows here, some empty, others overflowing with gold and jewels.
Though there remains a substantial sum, a quick estimate can assume the room could easily hold ten times as much as what currently remains.
D5. The war-room (CR 16)
A stone table stands nearly ten feet tall in this room – clearly sized for massive dragons. Instead of chairs, there are a number of circular indentations.
Once used by Saatman to plan alongside his most inner circle of dragon confidants, his recent reliance on human-sized allies has left this room abandoned.
Currently, it is being used by Pyallisk to attempt to deciper a number of Incandium's coded notes (which even if decoded are worthless – they muse upon how creatures less than dragons are more powerful than true dragons). However, the red dragon has become frustrated, and in an attempt to concentrate has cast silence over the room.
If the PCs notoriety is lower than 10, he remains here, puzzling uselessly over the coded notes, even if combat should occur nearby.
If the PCs notoriety is 10 or higher, Pyallisk will be in the throne room instead.
D6. The prison
This series of large cells seems not to have been used since the fall of the empire thousands of years ago.
The Saatman Empire has never been one to take prisoners, and has yet to even consider such since his resurrection.
Concluding the Adventure
This adventure path is officially over once Saatman and Matthew Rasputin are dead, though there is doubtlessly still evil to vanquish and treasure to recover within the throne itself.
Once Saatman is dead, the remaining Serpens Sanguis cultists will defer to the PCs, as much in fear as in thanks, and allow them freedom to exit the complex and leave as they will.
Continuing the Adventure
Just because Saatman is dead doesn't mean the adventure is over! Below are three potential ways that this adventure could continue beyond the scope of Saatman's Throne.
To Claim a Throne
Within the biographies, the party discovers their own names, each distant descendants of the first god-emperor himself! This grants them as much right as any to claim the Saatman Throne themselves – though such as statement will likely draw challengers from all over the realm.
Bones of the Past
Gasox, trapped for millennia after being caught spying for his master Thu'uo, has long since abandoned faith that he will be rescued. If offered freedom, he will willingly give the party the exact location of Thu'uo's secret lair hidden in plain sight by passing through an ancient stone arch in what is now Northern Klavek.
A Wish Too Far
Rasputin was a powerful sorcerer, but the power to draw Saatman's soul back from a two-thousand year slumber is still truly beyond him. In exchange for the power he used to return Saatman to this world, he has promised the empire's service to the ambitious demigod Emir – who conspires to collect what he feels he is due.
XP Rewards
If the PCs ally with any one of the houses of Gustavin, award them XP for a CR 16 encounter.
For each task the PCs complete for the houses of Gustavin, award them XP for a CR 16 encounter.
If the PCs ally with the three willing of the houses of Gustavin at once, even if only briefly, award them XP for a CR 18 encounter.
When the PCs solve the puzzle-lock to the throne, award them XP for a CR 14 encounter.
If the PCs reach The Door to the Seat of Power with a notoriety less than 5, award them XP for a CR 18 encounter
If the PCs reach The Door to the Seat of Power with a notoriety between 5 and 10, award them XP for a CR 16 encounter
If the PCs reach Saatman with notoriety less than 5, award them XP for a CR 18 encounter.
If the PCs reach Saatman with notoriety between 5 and 10, award them XP for a CR 16 encounter.
If the PCs execute Saatman in the Seat of Heresy and end his reign of terror permanently, award them XP for a CR 18 encounter.
Bestiary
Saatman Recruiter (House Mikhailov)
Tactics          
Before Combat If able to prepare for combat, Serpens Recruiters will cast see invisibility, greater invisibility and stoneskin.
Morale Saatman recruiters will retreat if reduced to 30hp.
Serpens Bodyguard (House Ivanov)
TACTICS 
During Combat Serpens bodyguards will put themselves between opponents and any other serpens members.
Morale Serpens bodyguards will fight to the death if within sight of any other serpens cultist, but will otherwise retreat if reduced to 50 hp.
Serpens Lorekeeper (House Oblast)
TACTICS 
Before Combat If a Serpens Lorekeeper is aware of combat, he will cast freedom of movement, invisibility and see invisibility.
During Combat Serpens Lorekeepers will summon Kytons or medium elementals if they are alone. Once they have support, they will inspire courage, and disarm dangerous melee combatants.
Morale Serpens Lorekeepers will retreat if alone, or reduced to 30 hp.
Serpens Enforcer (House Rasputin)
TACTICS
Before Combat Serpens Enforcers will cast shield, mage armor, invisibility and mage's sword
During Combat Serpens Enforcers will use their quickened spells on the first rounds of combat. They will redirect their mage's sword to the most heavily armored targets.
Morale When reduced to 60 hp, they will attempt to teleport away, before healing and rejoining in the next patrol the PCs encounter.
Mighty Half-Dragon Hero
TACTICS 
During Combat mighty heroes will rage and charge into groups of enemies to attempt to use Great Cleave as often as possible.
Morale Mighty Half-Dragon Heroes fight to the death
Arcane Half-Dragon Hero
Tactics          
Before Combat half-dragon heroes will cast greater invisibility, or Quickened invisibility if surprised.
During Combat half-dragon heroes will use disintegrate and Quickened scorching rays whenever possible. If alone, they will use summon monster V to summon water elementals.
Morale half-dragon heroes will fight to the death.
Old Green Dragon
Tactics          
Morale green dragons will call for help when reduced to 100 hp, bringing a patrol in 1d4 rounds unless one has already arrived.
Herthix
Tactics          
Before Combat Herthix will cast mage armor before battle.
Morale Herthix will normally fight to the death, but will surrender if inflicted with any disease.
Brunty
Tactics          
Before Combat Unlike other dragons, Brunty either refuses to, or cannot use spells.
During Combat Brunty will retreat backwards into a corner, to reduce the chance of him being flanked.
Morale Brunty will fight to the death
Iron Golem
Tactics          
Morale Iron golems fight to the death
Absidee
TACTICS 
Before Combat Absidee always has true seeing active, and is disguised with her hat of disguise.
During Combat Absidee will separate her target from the party with blade barrier, then use project image to lead the rest of the party elsewhere.
Morale Absidee will fight to the death.
Pyallisk
Tactics          
Before Combat Pyallisk will cast protection from energy and mage armor before battle if he has time, and summon fire elementals with summon monster IV.
During Combat Pyallisk will enter melee with spellcasters immediately, seeking to disrupt their spellcasting. If a melee character appears too dangerous, he will attempt to crush them – or otherwise keep them grappled.
Morale Pyallisk will fight to the death
Saatman
Tactics          
Before Combat Saatman will cast protection from arrows, protection from good, shield and mage armor if he knows when battle is coming –or if the party's notoriety reaches 10 or higher.
During Combat If engaged in melee, Saatman will focus on one target at a time, preferably one that his allies are able to flank. If not, he will use his area spells and breath attack to hit as many targets as once, regardless of allies (though he will attempt to use spells his allies are immune to, if available, such as casting fireball on Pyallisk)
Morale Saatman will fight to the death if not offered surrender, but will surrender if prompted and reduced to 50 hp or lower and his allies in the room are dead – though only so he can recover his power and attack once more.
Matthew Rasputin
Tactics          
Before Combat Matthew will cast greater invisibility, protection from good, protection from arrows, resist energy, shield and mage armor if he has time before battle.
During Combat Matthew will open with meteor swarm, and favor lightning bolt for most of the battle. Once reduced to 80 hp, he will cast time stop, and move to a more favorable location, restoring his spells with mages lubrication, and empowering his allies with haste.
Morale If within sight of any dragon, Matthew will fight to the death. Otherwise, he will attempt to teleport back to Gustavin if reduced to 40 hp. Once there, he will heal to full, and attempt to hunt down the party with four Serpens Enforcers. If he defeated a second time, he will not return.
New Monster: Serpens
Half organic, half construct and bound together by necromantic energies, the Serpens is a beast created by the Serpens Sanguis to serve as a tribute and servant for their draconic masters.
Long and sinuous, with lanky limbs and thin, flat bodies punctuated by spikes along their back and stitches running along their stomachs and sides, Serpens are an assemblage of parts made to resemble and serve dragons.
Though created through necromantic processes and assembled from collected parts, these creatures are technically alive – though their innate mental programming has them seeking masters wherever they can. Most often, these masters are true dragons who consider Serpens to be irritating and needy, but useful minions.
Rarely weighing less than 800 lbs, no two serpens look exactly alike, each one resembling it's creator's most recent opinion of dragons. Some talented wizards can make serpens precisely enough to even be mistaken for real dragons – though doing so usually requires using parts from a reasonably intact dragon's corpse.
New Spell: Genocide
Genocide
School necromancy [evil]; Level sorcerer/wizard 9
Casting Time 1 hour
Components V, S, M (obsidian dust worth 10,000 gp)
Range 1 mile radius
Effect kills all creatures of a given type
Duration instantaneous
Saving Throw Fort negates; Spell Resistance yes
You send out countless tendrils of dark energy in all directions, each one with seeking to snuff out the life force of one specific creature within the spell's radius.
Upon casting the spell, the caster selects one specific race, type and subtype (such as humanoid(humans), dragon(air)). All creatures of those subtypes within the spell's area must make a single Fortitude save, with a +4 bonus, or immediately be reduced to -1 hp and dying. Creatures reduced to dying in this way cannot stabilize without magical assistance – and even magical healing requires a DC 15 caster check to overcome the spell's effect.
New God: Eureum
Titles Eureum, The East Wind, He who Renews, The Sad Death
Home elemental plane of earth
Alignment lawful neutral
Portfolio autumn, death, rebirth
Worshippers undertakers, executioners, druids
Domains Death, Healing, Repose
Subdomains Decay, Growth, Loss, Resurrection
Favored Weapon scythe
Eureum is commonly portrayed as an unfeeling god, who cares little for the world so long as nothing interrupts the cycle of life to death. However, this view of him is false, for more important to him is the return again to life, and the continuance of the cycle of life.
Often, this message is confused by his followers and those who encounter them, fanatics who see in him little more than another aspect of death. Only a few of his followers are true believers, often those who live within nature and see the true nature of the cycle of life and death.
History
Eureum, along with the other three seasons, came into being as the world began to turn. The others chose their domains carefully, but Eureum took his from necessity. For, there must be balance in life as there must be balance in death. He feels it is job to keep the other seasons in check, and it was he who proposed dividing the world into the four seasons we know it as today.
Appearance
Eureum often appears as a faceless figure draped in a robe made of dried leaves and carrying a scythe in one skeletal hand, and a shovel in the other. It is said, that beneath the cowl, he perpetually weeps.
When he does not appear in a humanoid form, he appears as a collection of dry autumn leaves blowing in the wind.
Church of Eureum
Much to his dismay, most of Eureum's churches are misguided, focusing only on one aspect – either death, or rebirth – and are often fanatical in their beliefs. He considers only a few shrines to him, often deep within forests and away from civilization, to be true churches.
Worshippers and Clergy
Eureum's followers are more often fanatics than they are proper clergy, focusing either on bringing either death or life wherever they go instead of maintaining the cycle of life and death.
His true followers dress in dirty brown robes, often matted with dried leaves and crawling with tiny insects.
Holy Text
On Death
This book details the cycle of death, and life, and how all life depends on the death for sustenance as much as death depends on life – for one is impossible without the other. It also decries undead as abominations – for their death does not breed more life – only more death.
Appendix: Dragon Gods and Kings
The Saatman Empire lasted thousands of years and spanned millions of square miles. Though it only lasted through a handful of emperors, each of them ruled over dozens or hundreds of dragons, each one worshipped as gods by the land they ruled over.
Many of these dragons were content to simply collect tribute and occasionally enforce their will over the populace, but some few built great monuments to themselves, elaborate tributes, or incredible deathtraps that they would force humans into for their own amusement.
Queha
...was a particularly vain black dragon, and built himself ten thousand monuments – few of them taller than ten feet. Many of them were works of art, even inlaid with precious metal or gems. Most of them have fallen prey to his predecessors, or other greedy mortals in the time since, but there always appear to be still more to find. Some scholars have estimated nearly eight thousand of these monuments have been defaced or destroyed, meaning approximately two thousand of the small obelisks remain yet to be found by mortal hands.
Ivispraaus
...was secretive in his life, and proves to still be so in his death. By sacrificing the lives of countless slaves and servants he built himself a massive underground vault filled with every treasure he had ever collected.
His descendants – and those who later controlled his kingdom – have plumbed the complex again and again, each time pulling out more and greater treasures. Some suspect that the depths go deeper still, but none have yet found where they might open.
Thu'uo
...had for himself a massive temple created. Thousands of years ago, it was said to be ten stories tall, and covering a thousand acres. Now, barely two rocks stand upon one another, overgrown by a forest filled to the brim with wild things.
The creatures within are far more terrible and far more wild than the area has justified. Historians suspect that Thu'uo had built a complex beneath his temple, and within it he had begun to delve into necromancy, and other supernatural phenomena. Since there is no record of his death, some scholars think that he remains within the depths of this dungeon – now thousands of years old – working unthinkable magics.
Aycdre and Nillee
A rare agreement between multiple dragons, Aycdre and Nillee were twin blue god-queens, who claimed to have descended from the Saatmans themselves. They ruled their territory much more fairly than many other dragon kings, and saw a booming age of expansion and trade within the humans under their sway.
They were eventually killed by their own children, clambering to earn their own place of power, but the victor of the combat, Illoris, began immediately acting not unlike her mother – as did her successor a hundred years later. Scholars suspect that the true power behind the throne was using a mythical orb of dragonkind to manipulate the rulers of this kingdom, though how one could do so without drawing the attention of so many other god-kings remains a mystery.
Pathfinder Books Referenced
Pathfinder RPG Core Rulebook
Pathfinder RPG Bestiary
Advanced Players Guide
Ultimate Magic