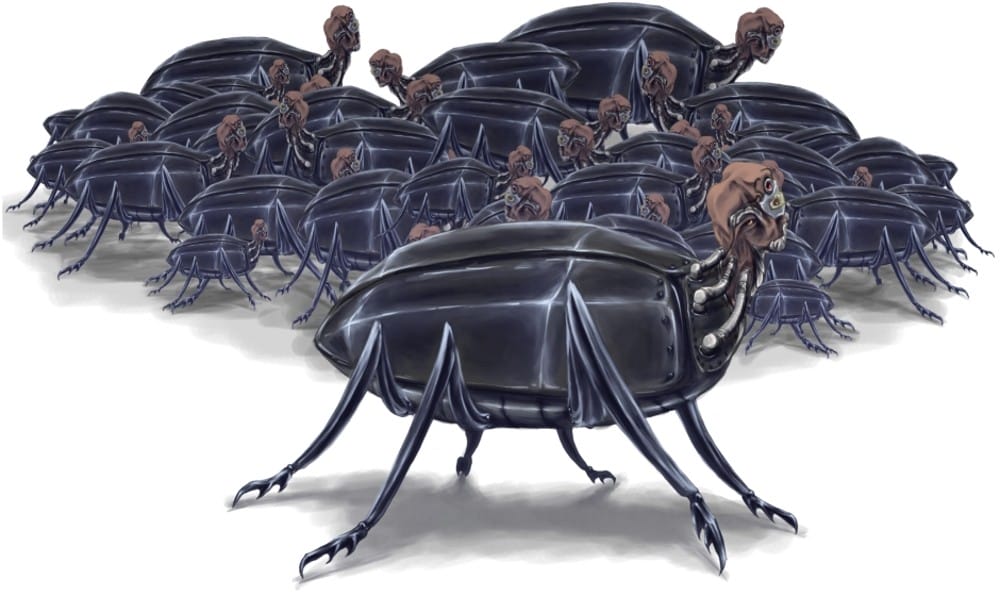 Somnambular Skurgxon Swarm     CR 8
XP 4,800
CE Fine outsider (native, extraplanar, robot, swarm)
Init +8; Senses darkvision 60 ft., lifesense, thoughtsense 60 ft.; Perception +16
DEFENSE
AC 22, touch 22, flat-footed 18 (+4 Dex, +8 size)
hp 65 (10d10+10); fast healing 3
Fort +3, Ref +11, Will +7
Defensive Abilities swarm traits; Immune mind-affecting effects, weapon damage
Weaknesses swarm traits, vulnerability to critical hits, vulnerable to electricity
OFFENSE
Speed 40 ft., climb 40 ft., fly 40 ft. (perfect)
Melee swarm (2d6 plus sleep 1d4 rounds, dream gouger and virulent touch)
Space 10 ft.; Reach 0 ft.
Special Attacks sleep (Will DC 15), dream gouger, virulent touch (Fort DC 15)
STATISTICS
Str 3, Dex 19, Con 10, Int 11, Wis 10, Cha 2
Base Atk +10; CMB —; CMD —
Skills Fly +20, Escape Artist +20, Perception +16, Sense Motive +13, Spellcraft +13, Stealth +24, Survival +13, Use Magic Device +9; Racial Modifiers +4 Stealth
Feats Improved Initiative, Run, Skill Focus (Escape Artist, Perception), Toughness
SQ compression
Languages envisaging
ECOLOGY
Environment Alucinar
Organization solitary, pair, or clutch (3-8)
Treasure none
SPECIAL ABILITIES
Dream Gouger (Ex) Creatures that take damage from a somnambular skurgxon swarm make a DC 15 Will save or fall asleep for 1d4 rounds, enduring vivid nightmares that gouge their soul and bestow 1d2 negative levels. A DC 19 Fortitude save negates the negative levels but staggers the creature for 1d4 turns. After successfully saving against this effect, a creature can only be staggered by it for 1 round durations for the next 24 hours.
Virulent Touch (Ex) When a somnambular skurgxon swarm deals damage with one of its natural weapons, a creature or object hit by it takes an additional 1d6 negative energy damage 1d4 rounds later (DC 15 Fortitude save negates).
5E Rules
SOMNAMBULAR SKURGXON SWARM
Tiny outsider, chaotic evil
Armor Class 17 (3 natural armor)
Hit Points 35 (10d4+10)
Speed 40 ft., climb 40 ft., fly 40 ft.
STR 3 (-3), DEX 19 (+4), CON 12 (+1), INT 11 (+0), WIS 10 (+0), CHA 2 (-4)
Skills Perception +8, Stealth +8
Damage Resistances bludgeoning, piercing, poison, slashing
Condition Immunities charmed, exhaustion, frightened, paralyzed, petrified, poisoned, prone, restrained, stunned
Senses blindsight 60 ft., darkvision 60 ft., passive Perception 18
Languages Abyssal, Terran
Challenge 4 (1,100 XP)
Biomechanical Flaws. A somnambular skurgxon swarm takes +50% damage from attacks and spells that deal lightning damage. A somnambular skurgxon swarm becomes stunned for 1 round when critically hit (despite their immunity).
Swarm.
ACTIONS
Virulent Touch. Melee Weapon Attack: +7 to hit, reach 0 ft., one target in the swarm's space. Hit: 7 (2d6) slashing damage, or 3 (1d6) slashing damage if the swarm has half of its hit points or fewer. The target must make a DC 13 Constitution saving throw or take 4 (1d8) necrotic damage. The swarm heals a number of hit points equal to half the necrotic damage it deals. This damage cannot be healed until a long rest or when on the plane of Alucinar.
[Submitted by Tim Snow! Artwork by Sara Shijo!]