When the PCs arrive in Mohkba they are barely as tall as a nail—only a quarter or half of an inch in height! Though they are unlikely to be found by the guards still looking for them, the adventurers have an entirely different problem on their hands: whatever magic Jesker the Great used to force their teleportation past the abjurations of the Sanctioned Practitioners of Mohkba, it is too powerful to be affected by any spell of 6th-level or lower. The adventurers are stuck with their new statures!
All of the party quickly realizes how small they've become and though there's relief from being found by the guards, they land directly in the middle of the city watch's dog pack den. Two dozen of the creatures—normally a friendly and encouraging sight—pose a deadly threat!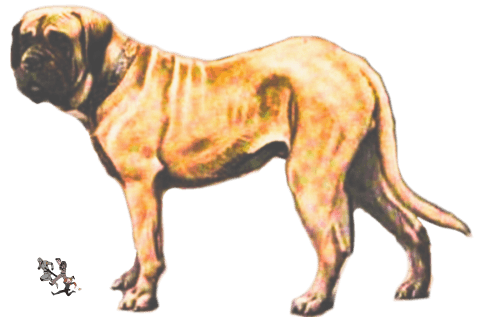 ENORMOUS HUNTING DOG       CR 2
XP 400
N Medium animal (special size rules) [This upcoming Meta Thursday with a sneak peek below! —MM]
Init +1; Senses low-light vision, scent; Perception +8
DEFENSE
AC 6, touch 3, flat-footed 5 (+1 Dex, +3 natural, -8 size)
hp 17 (2d8+8)
Fort +7, Ref +4, Will +1
OFFENSE
Speed 40 ft.
Melee bite -1 (1d6+9 plus trample and trip)
Special Attacks bijou bashing (1d4), trample (1d4+9, DC 16)
STATISTICS
Str 23, Dex 13, Con 19, Int 2, Wis 12, Cha 6
Base Atk +1; CMB +7; CMD 18 (22 vs. trip)
Feats Skill Focus (Perception)
Skills Acrobatics +6 (+14 jumping), Perception +8, Survival +1 (+5 scent tracking); Racial Modifiers +4 Acrobatics when jumping, +4 Survival when tracking by scent
ECOLOGY
Environment any (special size rules; Mohkba Mania)
Organization solitary, pair, or pack (3–12)
Treasure none
SPECIAL ABILITIES
Bijou Bashing (Ex) Creatures of Medium size or larger do not resolve melee or ranged attacks that deal bludgeoning damage normally when targeting a creature of Diminutive size or smaller.
On a successful hit, the smaller creature saves as though they were also being trampled by the larger creature.
If the hit was a critical hit, increase the number of the trample's damage die by 1 per critical multiplier (from 2d6 to 3d6 for a Medium creature wielding a club or other x2 modifier weapon, from 3d8 to 5d8 for a Large creature wielding a warhammer or other x3 modifier weapon, etc.) and the DC to avoid it by +5 per critical multiplier. A creature that fails their Reflex save must make a Fortitude save (DC 5 + opponent's attack roll) or be knocked prone. On a successful Reflex save, the smaller creature takes half the damage from the trample.
Unlike normal trample attacks, diminutive creatures are not able to make attacks of opportunity against their attacker.
Titanic Trample (Ex) Creatures of Medium size or larger receive trample as a special attack, dealing an amount of damage determined by size. They automatically make a trample attack against non-flying creatures of Diminutive size or smaller whenever they occupy the same square, avoided with a successful Reflex save (no damage).
The DC of this Reflex save increases by +2 for every leg the trampling creature possesses beyond two. Creatures that have no Fly speed that cannot be tripped (such as oozes and shoggoths) receive a +20 bonus to the DC of their Trample attack.
5E Rules
Use the regular statistics for a dog with the special size rules for Mohkba Mania. [Check back on Meta Thursday later this week! —MM]